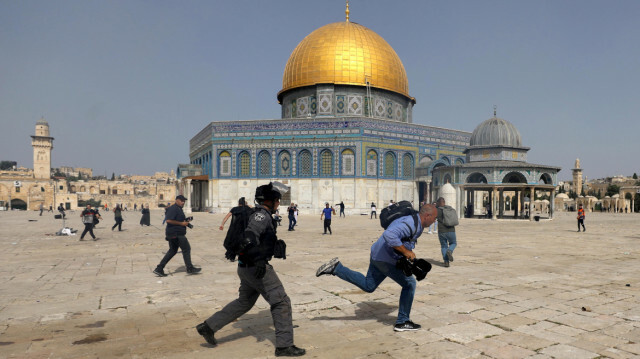 The bloodshed unfolding in the holy city of Jerusalem, particularly in the month of Ramadan, is unacceptable, the European Muslim Forum, a humanitarian organization battling Islamophobia and promoting Islam, said.
In a statement issued on Saturday, the group strongly condemned the provocations of Israeli forces against Palestinians being evicted from their homes and the invasion and destruction targeting the "venerable Al-Aqsa Mosque."
"We consider it unacceptable to treat the house of Allah as a paramilitary facility that is being stormed by military forces without any regards to the cultural damage inflicted on the lives of the noble sons of the people who have resisted the long-term oppression."
"We strongly condemn the inhuman practice of creeping occupation, when families that have been living in their own homes for generations are forcibly evicted."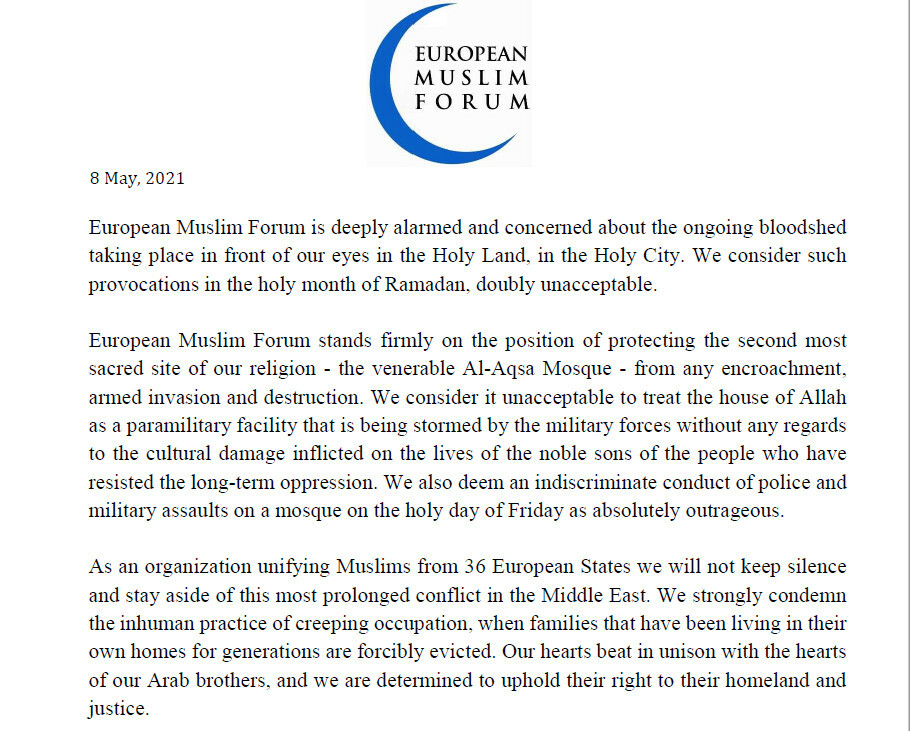 Palestinians in Jerusalem have been protesting in solidarity with the residents of Sheikh Jarrah neighborhood amid attacks by Israeli police.
The situation escalated after a ruling by the Israeli Central Court in East Jerusalem, which approved a decision to expel seven Palestinian families from their homes in the neighborhood in favor of Israeli settlers at the beginning of this year.
On Monday, at least 215 Palestinians were injured when the Israeli police stormed the Al-Aqsa Mosque in occupied East Jerusalem and attacked Palestinians who were on guard to prevent raids by extremist Jews.
Earlier, extremist Jews called for a raid on Al-Aqsa Mosque on Monday to celebrate the anniversary of the Six-Day War in 1967, when Israel occupied East Jerusalem, as "Jerusalem Day" according to the Hebrew calendar.
"European Muslim Forum is deeply alarmed and concerned about the ongoing bloodshed taking place in front of our eyes in the Holy Land, in the Holy City. We consider such provocations in the holy month of Ramadan, doubly unacceptable," the statement added.
"We also deem an indiscriminate conduct of police and military assaults on a mosque on the holy day of Friday as absolutely outrageous."
The group also expressed solidarity with the Palestinians, highlighting that they would fight for their rights to be recognized: "Our hearts beat in unison with the hearts of our Arab brothers, and we are determined to uphold their right to their homeland and justice."
Al-Aqsa Mosque is the world's third-holiest site for Muslims. Jews call the area the "Temple Mount," claiming it was the site of two Jewish temples in ancient times.
Israel occupied East Jerusalem, where Al-Aqsa is located, during the 1967 Arab-Israeli war. It annexed the entire city in 1980, in a move never recognized by the international community.