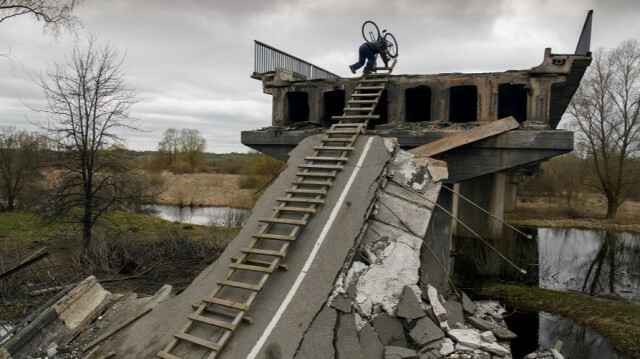 Ukrainians are rebuilding another war-torn village with the hope to resume normal life amid the ongoing Russia-Ukraine war.
Residents of the Ukrainian village of Kukhari, which was bombed by the Russian forces, said they would rebuild their village and hope the war would end soon.
Kukhari, 90 kilometers (56 miles) from the capital Kyiv, bears the traces of the war with most of the infrastructure and houses damaged.
Although the village was captured by the Russian troops in the early days of the war, it was taken back by the Ukrainian army in mid-March.
Speaking to Anadolu Agency, villagers shared their experiences during the attacks and their thoughts about the future, saying they will stay put to rebuild their houses and the village.
Recalling the attacks, Anatoliy Shepelyuk, a resident of Kukhari, said the Russian forces entered the village through the Chornobyl region near the Belarusian border on Feb. 26.
Some villagers were evacuated while others stayed back in the village, Shepelyuk said, adding planes were attacking the village three times a day. "Heavy weapons were used to hit the village."
Stating that many civilians were killed and houses damaged, Shepelyuk, a farmer, said: "I will stay here. I want to rebuild this place along with other villagers and make it even more beautiful than it was before the war."
Galina, another resident, said their houses were bombed during the war, adding: "This is our house, this is our land. Thus, we stayed here to rebuild our house. We have no other choice."
Emphasizing that the Ukrainian people are going through a difficult period, Galina hoped the war will end as soon as possible.
At least 3,752 people have been killed and 4,062 injured in Ukraine since the start of the war on Feb. 24, according to UN estimates. The true toll is believed to be much higher.
Over 6.2 million people have fled to other countries, with some 7.7 million people internally displaced, according to the UN refugee agency.