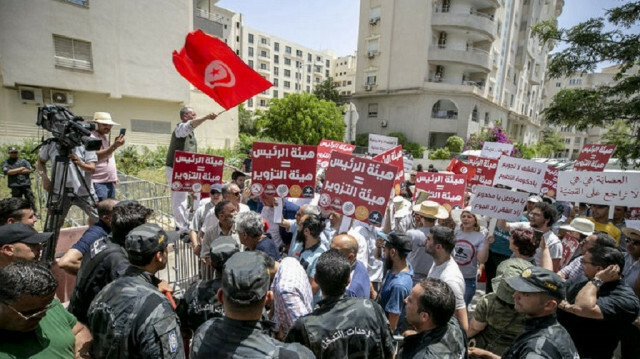 A coalition of five Tunisian parties has condemned attacks on their supporters during a protest against a planned constitutional referendum amid a deep political crisis in the North African country.
Tunisian President Kais Saied plans to hold a national referendum on an amended version of the country's constitution on July 25 and early elections on December 17.
Rival protests were staged in the eastern city of Sousse on Saturday during which opponents clashed, prompting security forces to intervene.
The coalition said its supporters were attacked by Saied's supporters during the protest and held the Tunisian authorities responsible for the assault.
It warned that the attacks on opponents of the referendum "posed a threat to civil peace" and amounted to "an attempt to silence the opposition."
There was no comment from the Tunisian authorities on the allegation.
The 5-party coalition includes the Republican Party, the Democratic Current, the Democratic Forum for Labour and Liberties, the Workers' Party, and the Democratic Modernist Pole Party.
Tunisia has been in the throes of a deep political crisis that has aggravated the country's economic conditions since Saied ousted the government, suspended parliament and assumed executive authority last year in July. He later dissolved the suspended parliament.
While Saied insists his measures were meant to "save" the country, critics have accused him of orchestrating a coup.