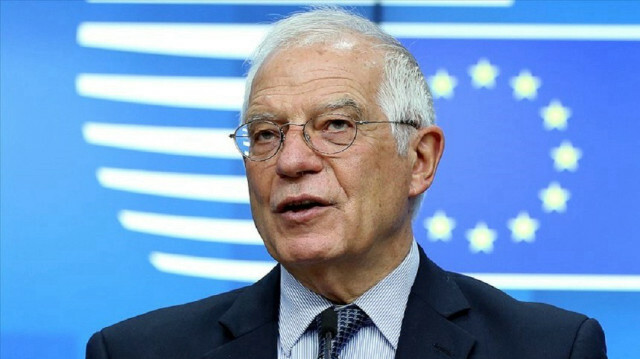 The European Union's foreign policy chief on Tuesday voiced the bloc's "full support" for Sweden and Finland's NATO membership bid.
"The news of the day is Swedish and Finnish ministers explaining us and updating us about their policy deliberations on NATO membership," Josep Borrell told a news conference after EU's Foreign Affairs Council's meeting on defense in Brussels.
Borrell said both Sweden and Finland could "count on the full support of the EU", and membership in the military alliance would "strengthen and increase the cooperation and the security in Europe.
"So let's hope that this membership will come soon," he added.
The Finnish and Swedish governments are expected to hand over their NATO membership applications on Wednesday. They need unanimous support from NATO's 30 member states to join the military alliance.
Turkiye, a longstanding NATO member, has voiced its objections to Finland and Sweden's membership bids, criticizing the two Nordic countries for tolerating and even supporting terror groups like the YPG/PKK and FETO.
In its more than 35-year terror campaign against Turkiye, the PKK -- listed as a terrorist organization by Turkiye, the US and the EU -- has been responsible for the deaths of over 40,000 people. The YPG is PKK's Syrian offshoot.
FETO and its US-based leader Fetullah Gulen orchestrated the defeated coup of July 15, 2016, in Turkiye, in which 251 people were killed and 2,734 injured.
Ankara accuses FETO of being behind a long-running campaign to overthrow the state through the infiltration of Turkish institutions, particularly the military, police, and judiciary.
- Russia-Ukraine war 'in critical moment'
Emphasizing that the EU has to "replenish resources and the stockpiles" for Ukraine, Borrell stressed that such support is critical because Russia's war is currently in a "critical moment, in a turning point."
"We cannot let Ukraine run out of equipment," he said.
In response to a question regarding the EU's ability to sustain efforts in providing equipment to Ukraine, Borrell said "EU member states have enough resources to continue supporting Ukraine."
He noted that an advisory group was launched jointly with the US and UK to investigate war crimes in Ukraine.
On Tuesday, the Ukrainian military said 27,900 Russian soldiers have been killed during the war.
At least 3,668 people have been killed and 3,896 injured in Ukraine since Russia began its war Feb. 24, according to UN estimates. The true toll is believed to be much higher.
More than 6.2 million people have fled to other countries, with 7.7 million people internally displaced, according to the UN refugee agency.