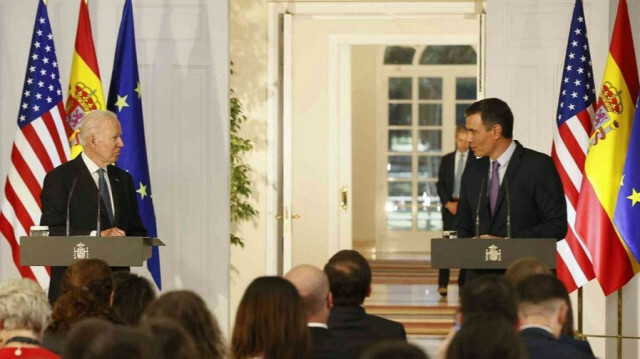 Spain and the US have adopted a new joint declaration between the two countries to update the 2001 declaration and strengthen relations on Tuesday.
Prime Minister Pedro Sanchez and US President Joe Biden made the announcement in a joint press conference following their meeting on the sidelines of the NATO Summit in Madrid.
With the declaration, the two countries committed to "promote safe, orderly and regular migration" based on "permanent cooperation in response to the challenges of irregular migration in the North African region," as well as to collaborate on "the management of irregular migratory flows that guarantees fair and humane treatment of migrants."
The agreement came a few days after around 2,000 migrants stormed the militarized border fence to enter the Spanish enclave of Melilla from Morocco on Friday and 37 of them died.
Sanchez and Biden have also agreed to increase the US military presence at the Spanish Rota naval base in Cadiz by sending two more destroyers as part of NATO's anti-missile shield, which will be added to the four already installed there.
Rota base is the largest American military community in Spain.
"I am particularly pleased with the new joint declaration between Spain and the US adopted today and which will update and strengthen relations between the two countries," Sanchez said.
The increasing American presence in Rota requires approval from the Spanish Council of Ministers and Congress.