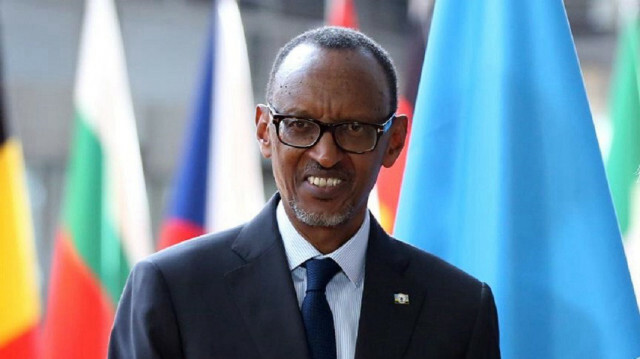 Rwanda's president on Wednesday dismissed claims by neighboring Democratic Republic of Congo that his country is providing support to the M23 rebel movement, calling it "a blame game."
Speaking at the 77th UN General Assembly in New York City, Paul Kagame said that regional initiatives can complement the work of the UN in addressing the security challenge in the eastern DR Congo.
His remarks follow recent renewed fighting between Congolese troops and M23 rebels in eastern DR Congo.
Congolese President Felix Tshisekedi spoke Tuesday at the General Assembly, squarely blaming Rwanda for backing M23 rebels.
Tshisekedi claimed that in defiance of international law, Rwanda on March 23 not only launched a direct military incursion in North Kivu province in the DR Congo but had also provided "massive" support to the M23 in occupying localities there.
"The M23 with the support of the Rwandan army even shot down a MONUSCO (UN peacekeeping force) helicopter and killed eight blue helmets…committing a war crime," he said.
But according to Kagame, recent "setbacks" in eastern DR Congo have highlighted that the security situation is fundamentally not different than it was 20 years ago, when the largest and most expensive UN peacekeeping mission was first deployed.
"There is an urgent need to find the political will to finally address the root causes of instability in eastern Congo. The blame game does not solve the problems," said Kagame, without referring to Tshisekedi.
"These challenges in eastern Congo are not insurmountable, and solutions can be found."
Kagame proposed regional and bilateral initiatives to tackle the security situation in Congo, citing northern Mozambique, where he said regional forces from Rwanda and the Southern African Development Community (SADC) have proven to make a big difference after containing violent extremism.
"If this approach were tried properly in DR Congo, it would make a difference. However, to be sustainable, such efforts require consistent financial support from the international community," he added.
The security situation in eastern DR Congo has been volatile for years, with a myriad of foreign and local rebel groups active in the region.
There has been little improvement despite the government's "state of siege" for more than a year and joint offensives by Ugandan and Congolese forces.