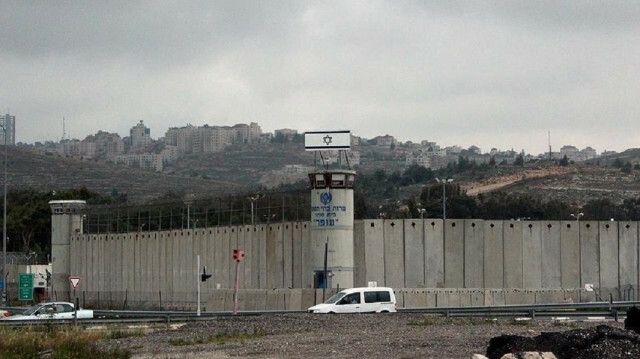 The alleged inhumane treatment of Palestinian prisoners inside Israel's high-security Gilboa prison, as well as slain resistance leader Kamal Abu Waer, acted as a catalyst for the plotting and execution of the jailbreak, said two recaptured jail breaker Palestinians on Thursday.
Mahmoud al-Arida, 46, and Muhammed al-Arida, 39, have told in two separate messages, featured by Palestine's Prisoner Affairs Commission and Palestine TV, about the inhumane conditions inside Gilboa prison, as well as harsh interrogations since their recapture.
Six Palestinian prisoners tunneled out of Gilboa prison on Sept. 6. However, Zakaria Zubeidi, Mahmoud al-Arida, Yakub Qaderi, and Mohammad al-Arida were recaptured by Israeli forces after five days of manhunt. The mastermind of the jailbreak is suspected to be Mahmoud al-Arida.
Mahmoud al-Arida said the tunnel was dug in response to the killing of Kamal Abu Waer on Nov. 10, 2020.
According to the Palestinian Prisoners Society (PPS), Waer died because of Israeli "medical negligence" inside the jail where he suffered from throat cancer and did not receive proper care.
Waer, a native of Qabatiya in the northern West Bank, was arrested in 2003 and sentenced to six life terms plus 50 years in prison for resisting Israeli occupation.
Another reason for the escape, according to Mahmoud al-Arida, was a long-standing desire for freedom.
The tunnel was dug for a number of other reasons, including the bad conditions inside the jail and horrible situation of the prisoners, terrible isolation, and the refusal of the demands of the large-scale prisoners strike in 2017, al-Arida added.
He dedicated the "victory" (the jailbreak) to Kamal Abu Waer and Muhammad al-Ashgar, who was killed during the repression of the prisoners at Negel Prison, as well as the martyrs of the prisoner movement, saying that the tunnel was called "the way to Jerusalem" by the prisoners.
Muhammed al-Arida said he has been kept in the same cell for 24 hours since being recaptured nine days ago. "There is nothing in the cell but the walls. I see no one, and I try to head towards the little window of the prison cell for water and other needs," he said.
Claiming the jailbreak was their "legal right," he said the living conditions in the cells are "very harsh, very cold," adding that he has not been permitted to change his clothes since his recapture.
"I am not a terrorist," al-Arida remarked in response to Israel's labeling him a terrorist. "You are occupants, and you have been terrorizing us, the Palestinian people, and we are defending ourselves."
Palestinians celebrated the jailbreak as a "big victory," while Israelis described it as a major security and intelligence failure.
*Writing by Dilan Pamuk in Ankara