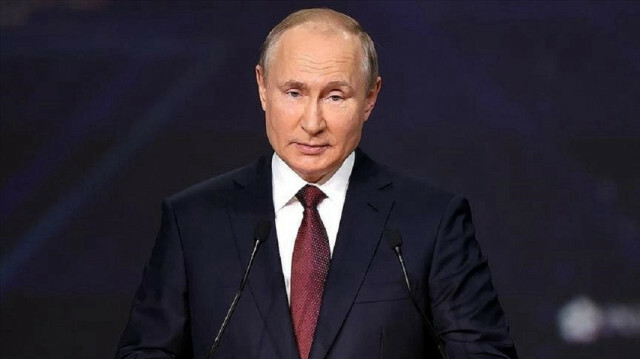 Russia's principal concerns regarding security guarantees were not taken into account in the US response to Moscow's proposals this week, President Vladimir Putin told his French counterpart Emmanuel Macron in a Friday phone call.
The statement represented yet another negative note in efforts this week between Moscow and Washington to prevent what many fear could end in an invasion of Ukraine after a months-long Russian troop buildup.
Putin said the US response includes no answers to such crucial Russia concerns as stopping NATO expansion, guarantees of non-deployment of strike weapons systems near Russia's borders, as well as the return of the military potential and infrastructure of the alliance in Europe to the positions of 1997, from the Founding Act on Mutual Relations, Cooperation and Security between Russia and NATO, which was ignored, the Kremlin said in a statement on its website.
The question about the indivisibility of security, suggesting that no one can strengthen its own safety at the expense of others, was ignored as well, it added.
"Vladimir Putin noted that the Russian side will carefully study the written responses received on Jan. 26 from the United States and NATO to the draft agreements on security guarantees, after which it will decide on further actions," the statement said.
On the situation in Ukraine, Putin stressed the necessity of implementation of the 2014 Minsk Protocol by Ukrainian authorities, "firstly, to establish a direct dialogue with Donetsk and Luhansk and the legal formalization of the special status of Donbas," referring to areas of eastern Ukraine partially or wholly controlled by Russian-backed separatists.
Putin and Macron, whose country now holds the rotating EU presidency, also exchanged opinions of a meeting of the Normandy Four – Germany, France, Russia, and Ukraine – presidential advisors in Paris and agreed to continue work on the issue in this format.
Putin and Macron also discussed restoration of the 2015 Iran nuclear deal, noting the similarity of their positions on this, and both advocated further international efforts to preserve and implement the agreement.
The two presidents also discussed measures to fight the coronavirus pandemic as well as possible cooperation on atomic energy.
In December, Russia presented to the US and NATO a proposal on providing security guarantees in Europe that takes into account the country's interests.
On Jan. 26, after a series of talks, the US and NATO handed their written responses to the Russian Foreign Ministry.