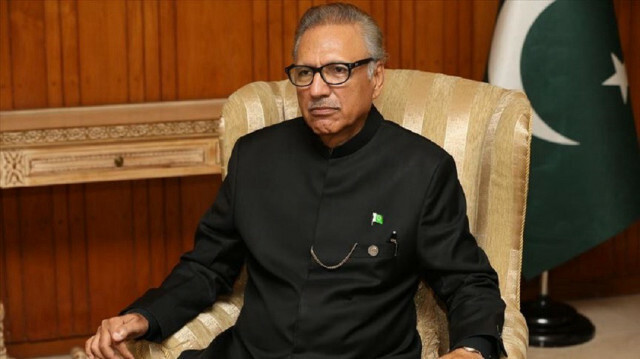 The Pakistani president on Thursday expressed "alarm and deep concern" on "harassment and torture against journalists and media persons" in the country.
"Recent events of violence against journalists reflect a mindset of intolerance, that has negative repercussions both on the future of democracy as well as freedom of expression as guaranteed by Article 19 in our Constitution," Arif Alvi said in a letter addressed to Prime Minister Shehbaz Sharif.
Pakistan's ranking in the annual Press Freedom Index by Reporters Without Borders dropped during the tenure of ex-premier Imran Khan, and the new coalition government is also accused of undermining press freedom.
Authorities have in recent weeks filed multiple cases against journalists – Sami Ibrahim, Arshad Sharif, Sabir Shakir and Imran Riaz, among others – who have criticized an alleged plot that resulted in removal of Khan's government. Riaz was arrested earlier this week for allegedly publishing material critical of state institutions.
Khan, ousted in a parliament no-confidence vote this April, says he was removed in a US-backed conspiracy.
In the letter, the president also mentioned Matiullah Jan, Asad Ali Toor and Absar Alam, journalists who were attacked and abducted during Khan's tenure.
He expressed concern over the recent manhandling of senior journalist Ayaz Amir in the eastern city of Lahore.
"Journalists in Pakistan are subjected to charges of sedition and terrorism to stifle dissent and criticism against the powerful elements of state," the president said, adding: "It appears that a reign of terror has been unleashed against the media persons who have independent opinions."
The head of state argued that "actions or inactions of previous governments should not be used as a ruse to repeat similar violations and such a stance is both untenable and a lame excuse."
Alvi said Pakistan should not allow "oppression and persecution of intelligentsia and journalists," suggesting the government to direct law enforcement agencies "to ensure protection of journalists and media persons."
He asked the premier to keep him informed of the remedial actions taken as per the country's Constitution.
In her first presser after the appointment as the new information minister, Marriyum Aurangzeb, besides other announcements, had assured there will be no restrictions on the media.