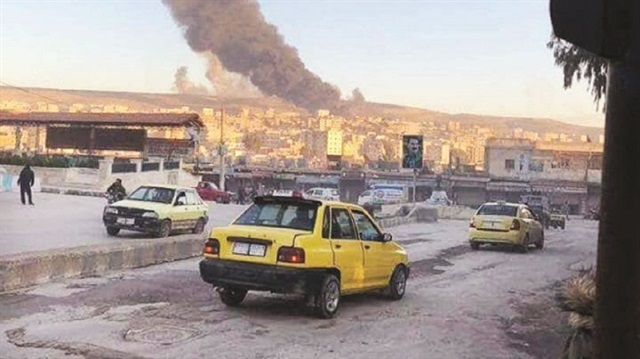 Terrorists from the Kurdistan Workers' Party (PKK)'s Syrian offshoot, the PYD, are smuggling their own families out of Afrin as they block the region's civilians from leaving, after Turkey launched an operation dubbed "Olive Branch" on Saturday, aiming to clear the northwestern Syrian region from PKK/PYD terrorists.
As civilians are being used as "human shields" by PKK/PYD terrorists, family members and close associates of terrorists are allowed to leave, as the terror group attempts to relocate them to distant regions.
People of Afrin fed up with PKK terrorists
Violations targeting the region's population by PKK/PYD terrorists are still ongoing.
Civilians are being taken hostage and forced to take up arms as terrorists continue to bombard children and hospitals, which revealed the true aims of PKK/PYD terror organization.
Bereaved families are left helpless as their kids are being taken hostage by the terror organization.
Turkey on Saturday launched Operation Olive Branch to remove PKK/KCK/PYD-YPG and Daesh terror groups from Afrin.
The operation is being carried out under the framework of Turkey's rights based on international law, UN Security Council decisions, self-defense rights under the UN charter and respect to Syria's territorial integrity, the Turkish General Staff has said.
The military also said that only terrorist targets were being destroyed and "utmost importance" was being given to not harm any civilian.
The PYD/PKK is the Syrian offshoot of the PKK terrorist group, which has been designated a terrorist organization by Turkey, the U.S. and the EU.