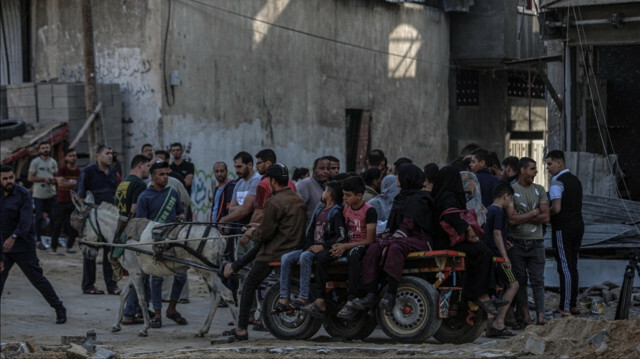 Issa Qawasmi still remembers the moment Israeli bulldozers demolished his family's home in East Jerusalem in 1967.
A 5-year-old boy at that time, Qawasmi recalls standing by his father watching the house being torn apart by Israeli bulldozers in Jerusalem's Old City, with tears rolling down his cheeks.
"I grew up in the alleyways of Jerusalem after the war and saw how people were living in hard conditions," he told Anadolu Agency on Tuesday.
"I was still a young boy and did not fully realize the whole situation. However, I was aware that my city had fallen to occupation," he added.
Israel occupied the eastern part of Jerusalem, along with Egypt's Sinai Peninsula and Syrian Golan Heights during the Middle East war in 1967.
Palestinians want East Jerusalem, where the flashpoint Al-Aqsa Mosque compound is located, as the capital of their future state in any peace agreement with Israel.
August 9 marks the International Day of the World's Indigenous Peoples. The day is observed annually to raise awareness and protect the rights of the world's indigenous population.
Displacement
On that day, Israeli forces demolished 139 Palestinian homes, four mosques and a school in East Jerusalem immediately after occupying the city.
Around 3,700 Palestinians were forcibly displaced by the demolitions.
"During the demolitions, I was standing near a Palestinian elder, who was screaming and appealing to Israelis to stop the destruction of his home to save his deaf daughter," Qawasmi recalled.
"But Israelis never cared for him," he added.
Qawasmi, a photographer and novelist, still remembers the Palestinian elder while hurling stones at Israeli soldiers in a helpless attempt to stop them from razing his home.
"My heart feels heavy every time I go to visit the area. I wish I was a man on that day to help him and his daughter," he said.
Jerusalem history
In an attempt to raise awareness about his city, Qawasmi uses his photography and writing skills to educate people about the history of Jerusalem and Palestinian traditions in the occupied city.
Every night, he goes to Al-Aqsa Mosque in East Jerusalem to document religious and social rituals held by Palestinians inside the complex.
He also writes short novels about Palestinian traditions, the history of Jerusalem and its landmarks and post them on his Facebook account.
He also meets tourists in the city to tell them about the story of his home demolition and the history of the occupied city.
"This city inspires us to cherish life even though it is a hard one," Qawasmi said.
According to Israeli statistics in 2020, around 39 percent of the population in the eastern and western parts of Jerusalem are Palestinians.