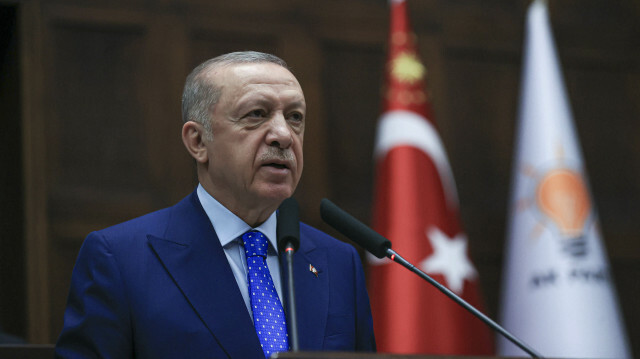 As a NATO member, Turkey will not agree to any enlargement that could leave the military alliance less secure, nor harm its own security, the Turkish president said Wednesday, laying out its concerns over Finland and Sweden's push for NATO membership amid the Ukraine war.
"We expect our allies to first understand our sensitivities (on counter-terror efforts) and then to respect and finally, if possible, to support them," President Recep Tayyip Erdogan told the parliamentary group meeting of Turkey's Justice and Development (AK) Party in the capital Ankara.
Erdogan underlined Turkey's need to protect its borders from terror groups based around and across Turkey's borders.
It is "incoherence" for Sweden and Finland to seek to join the military alliance when they provide support to PKK/YPG terrorists, he said.
Sweden refused to extradite terrorists to Turkey, but dares to ask for NATO membership, he said.
Turkey, a longstanding NATO member, has voiced objections to Finland and Sweden's membership bids, criticizing the two Nordic countries for tolerating and even supporting terror groups like the YPG/PKK.
For any new member to join NATO, all the alliance's members must agree unanimously, including Turkey.
Over the last five years, both Sweden and Finland have failed to agree to Turkey's requests for the extradition of dozens of terrorists, including members of the PKK and FETO, the group behind the 2016 defeated coup in Turkey.
Last Friday, Erdogan said that certain Scandinavian countries act like "guesthouses" for terrorist groups.
In its more than 35-year terror campaign against Turkey, the PKK – listed as a terrorist organization by Turkey, the US, and the EU – has been responsible for the deaths of over 40,000 people. The YPG is the PKK's Syrian offshoot.
FETO and its US-based leader Fetullah Gulen orchestrated the defeated coup of July 15, 2016 in Turkey, in which 251 people were killed and 2,734 injured.
Senior representatives of Sweden and Finland are set to visit Turkey in the coming days to hold official talks in Ankara to discuss their NATO membership bids, spurred by Russia's war on Ukraine.
For years Turkey has fought terrorists, taken in millions of Syrians
Saying that the world is currently facing greater and bigger threats caused by Russia's war on Ukraine following the COVID-19 pandemic, Erdogan said: "The global system of economy and government is being shaken to its foundations."
"Economic troubles, which are best epitomized by the inflation triggered by exorbitant hikes in energy and raw material prices, distress all, developed countries in particular," he added.
Turkey is at the foremost of countries "lending the biggest support to the alliance's activities in practice. Yet, this doesn't mean that we will agree to every proposal brought before us," he said, adding that NATO enlargement can work if Turkey's sensitivities are respected.
Turkey has one of the largest armies in NATO, second only to the US, and takes extensive part in NATO exercises and missions.
On the solidarity and cooperation displayed in the region amid the Ukraine crisis, Erdogan stressed that Turkey "as a NATO ally that has been fighting terror for years, with its borders being harassed and massive conflicts taking place next to it, (but) has never seen such a picture."
He urged NATO allies to show the "same good faith" on Turkey's efforts aimed at protecting its borders and reinforcing its security and stability.
On unrest in the region, including Syria's civil war, he said: "We pay the price for these troubles by hosting refugees numbering millions. And we couldn't see any ally understanding our problem on this issue until after refugees headed for Western countries."
Some 4 million Syrian refugees currently live in Turkey – more than any country in the world – but commentators have said the warm welcome Ukrainian refugee got in Europe contrasts with European countries' reluctance to take in Syrians.
"We have sensitivities arising from our responsibilities towards our brothers with whom we enjoy strong historical and humanitarian ties," Erdogan said, stressing that Turkey cannot turn its back on the oppressed.
"It is clear that our allies don't share this approach of ours although they show unlimited tolerance for some countries within NATO and the European Union that engage in every kind of spoiled acts and abuse the massive resources allocated to them," he added.
Ankara continues to fulfill its responsibilities within NATO despite some allies' attitudes towards Turkey, Erdogan said, stressing that asking Ankara "for support for NATO membership while providing every kind of support to the PKK/YPG terrorist organization amounts to incoherence to say the least."