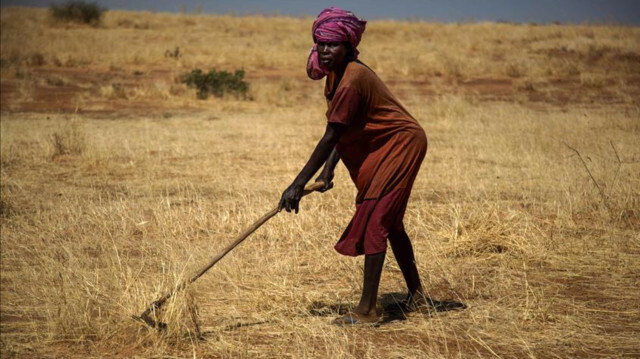 Standing at her farm, gently clutching shrubs of a fresh cassava tree, Abia Magembe narrates how she owes much of her success to the humble root.
"When I started growing this crop, I did not know I would get all these benefits," she told Anadolu Agency.
Unlike other farmers in the village of Lusanga in Tanzania's northern Muheza district, who ignore cassava and dismiss it as poor man's food, the 56-year-old grandmother has a lot of respect for the crop that earns her a handsome livelihood.
"My grandchildren are happy because we have sufficient food and we get enough income," she said.
On the International Day for the Eradication of Poverty, Magembe, who started growing cassava five years ago, said: "This crop has been a game changer for my family."
One of the village's respected cassava farmers, she initially grew it on a smaller scale merely for personal consumption, but has since expanded production because of the growing market.
- 'Miracle crop'
Cassava is the second most important source of carbohydrates in sub-Saharan Africa after maize, which farmers grow as a crop of choice when other crops fail.
Some 80% of Africans depend on it for food security as the crop is highly adaptable to extreme weather and poor soil conditions, according to the UN's Food and Agriculture Organization.
In Tanzania, cassava is considered an important subsistence crop, with many farmers growing it for food, livestock feed, and industrial use.
According to the International Institute of Tropical Agriculture, cassava accounts for 37% of Africa's dietary energy and per capita consumption is close to 80 kilograms (176 pounds) per year on the continent.
Hailed as a "miracle crop," cassava is an important weapon in the fight against poverty. As a drought-resistant crop, cassava sheds its leaves to preserve moisture in the dry season and flourishes back when rains begin.
Though widely grown in Tanzania, agricultural experts say cassava's potential as a source of income has not been widely tapped.
However, the crop presents huge opportunities for farmers in Muheza.
Under a community-backed initiative, farmers in Muheza are trained to grow high-yielding varieties of cassava to earn good incomes.
According to Magembe, she has been earning about 4 million shillings ($1,740) every year from the cassava she grows on her three-acre farm.
- Changing weather patterns
In Muheza, changing weather patterns triggered by worsening impacts of climate change have forced farmers to ditch traditional crops and embrace cassava.
With support from agricultural experts, farmers have adopted drought-resistant varieties to reap economic dividends.
Regina Kapinga, a root crop agronomist at the Ministry of Agriculture and Cooperatives, said farmers in Muheza have quickly learnt how to grow cassava, which has greatly helped in reducing poverty in the impoverished district.
"The crop has changed from a low-yield farming reserve to a productive cash crop that has raised farmers' income and lifted them out of poverty," Kapinga told Anadolu Agency.
According to her, the rapidly growing market for cassava presents huge opportunities for poverty reduction.
"This will help many farmers earn better incomes, overcome poverty, and meet the health and educational needs of their families," she said.
- 'Come rain or shine, I will keep growing cassava'
For years, James Kahisi, a resident of the neighboring Tongwe village, has depended on seasonal rainfall to plant maize, beans, potatoes, and yams.
However, the extreme weather changes forced Kahisi to switch to cassava.
The crop has turned out to be a blessing for him and his fellow villagers, whose living conditions have remarkably improved.
Karim Isihaka, another farmer in Tongwe, told Anadolu Agency that growing cassava changed his life and that of his family.
Despite recurring spells of drought, he produces enough cassava to meet the growing needs of his family.
Rich in starch and protein, the crop is more than enough to meet the nutritional needs of Isihaka's children and he sells the surplus as milled cassava flour.
A kilogram of processed cassava flour is fetches between shillings 2,500 to 4,000 shillings (approximately $1.08 to $1.75) in Dar es Salaam, the key market for Muheza farmers.
By comparison, a kilogram of maize flour goes for 1,000 to 1,500 shillings ($0.4 to $0.6), he said.
Before he ventured into what has been a lucrative business for him, Isihaka could barely support his family as droughts wreaked havoc on harvests.
Today, though, the rising demand for cassava has given him a chance to prosper and secure his family's future.
"Come rain or shine, I will keep growing cassava," he said.