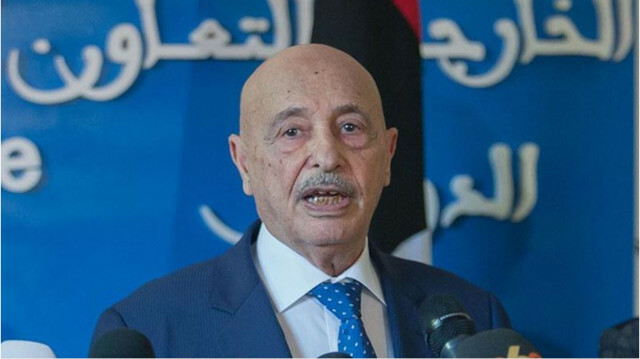 Speaker of the Libyan House of Representatives, Aguila Saleh, promised Saturday that he will hand over power as soon as a new assembly is elected.
We "will hand over power as soon as the new parliament is elected," Saleh told the local channel 218 in an interview that was shared by the parliament's media office.
Asked whether he will run for the country's presidency, Saleh said it is "inappropriate" for him to announce his candidacy "until the door for announcing candidacy is opened."
He stressed that Libya's solution lies in conducting elections and warned that any obstruction of the vote "will entail serious consequences and chaos."
Saleh also defended his move to withdraw confidence from the unity government of Prime Minister Abdul Hamid Dbeibeh arguing that "it was for fear that it would continue to sign contracts that would result in large debts on the people."
On Tuesday, parliament withdrew confidence from the unity government, a move that threatens plans to timely hold the country's parliamentary and presidential elections.
Head of Libya's High Council of State, Khalid Al-Mishri, slammed the move, saying the government will continue its work until the country's elections slated for Dec. 24.
Tension has risen in Libya between the Libyan parliament, the High Council of State, and the unity government over electoral powers and laws.
*Writing by Ibrahim Mukhtar