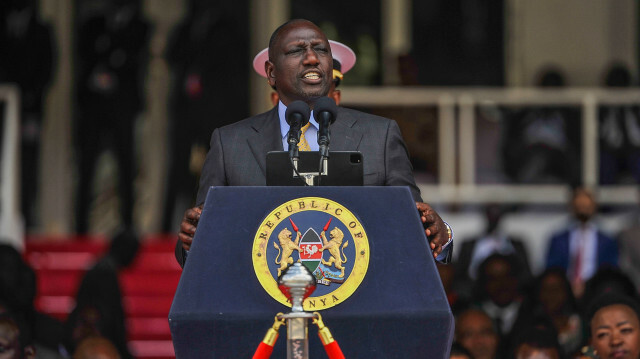 Kenyan President William Ruto urged world leaders Wednesday to walk the talk when it comes to multilateralism during his inaugural address at the UN General Assembly in New York.
Ruto said from genocides and civil conflict to famine and pandemics, the African continent is consistently left to bear the brunt of weak solidarity and disastrous failure of multilateralism.
The Kenyan leader, who was sworn into office Sept. 13, noted that history indicates the last time that Africa was the focal point of strong and effective multilateral consensus was during the Berlin Conferences of 1884-1885 and the character of ensuing interventions casts a long shadow.
"Not to put too fine a point to it, the failure of multilateralism during crises which relegate the people of Africa outside the circle of moral consideration, and normalize humanitarian neglect and other casual injustices are failures of humanity," he said.
"Nothing about Africa or its people makes it acceptable for this type of failure to persist in this era, and we have an urgent moral duty to do better, and to right this wrong," he said.
Kenya called for the strengthening of multilateralism as the only sustainable path to a peaceful, stable and prosperous world for all.
Ruto also ment UN Secretary-General Antonio Guterres to discuss regional cooperation, security in the Horn of Africa, Kenya's membership on the UN Security Council, climate change and the humanitarian crisis in the region.
During a US-Kenya Executive Business Roundtable on Wednesday, Ruto said Kenya is open to increased business with the US.
He noted that a conducive and enabling business environment will be a focus area of his administration to spur domestic and foreign direct investments to create jobs and wealth.