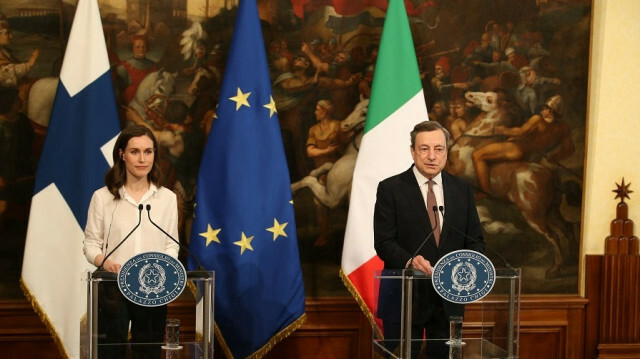 Italy supports the decision by Finland and Sweden to join NATO, the Italian prime minister said on Wednesday.
"Italy backs with full conviction the decision by Finland and Sweden (to join NATO)," Mario Draghi said at a joint news conference with Finnish Prime Minister Sanna Marin, who met him earlier on Wednesday.
"Our talks come at a historic moment for Europe and Finland," Draghi added.
The Italian prime minister also stressed that the two Nordic countries' requests to enter NATO are "a clear response to the Russian invasion of Ukraine and the threat this represents for Europe and for our collective security."
Both Draghi and Marin said that they want to accelerate Finland's effective entry into NATO.
The Italian prime minister also added that Europe has already proven great unity in condemning Russia's war on Ukraine and has to continue to work for a negotiated solution to the crisis.
Responding to a question regarding Russia's recent decision to expel dozens of Italian and European diplomats, as a response to the EU position on the war, Draghi said he had been just informed of the news and that he considered Moscow's move a "hostile act."
However, he said that "diplomatic ties with Russia cannot be interrupted" and that a diplomatic solution to the crisis is still the main goal.