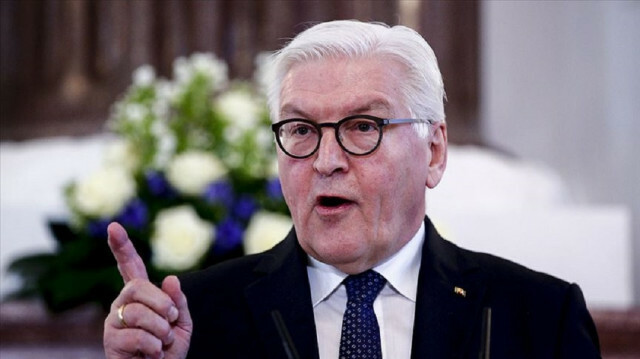 Germany's president on Tuesday acknowledged his country's responsibility for the human tragedy in Afghanistan and urged authorities to do everything for Afghans who fear for their lives after the Taliban seized power across the country.
"The images of desperation at the Kabul airport are shameful for the political West," Frank-Walter Steinmeier told a news conference in Berlin, a day after thousands of Afghans flocked to Kabul's airport, tried to flee the country on departing planes.
"In these days, we are experiencing a human tragedy for which we share responsibility, and a political turning point that has shaken us and will change the world," he stressed.
The prominent Social Democrat politician, who served as foreign minister in 2005-2009, and 2013-2017, has refrained from openly criticizing US President Joe Biden, whose decision to withdraw troops from Afghanistan has paved the way for the Taliban's swift takeover of the country.
Germany had the second-largest military contingent in Afghanistan after the US, and 59 German soldiers had lost their lives in fighting the Taliban. Following the US decision, Germany completed its troop pullout from Afghanistan at the end of June.
On Tuesday, Steinmeier called on German authorities to make every effort for Afghans who are in need of help, and evacuate all those who worked for the German army and other agencies.
"Germany must do everything in its power to bring our citizens and all Afghans who have helped us to safety," he stressed.
"Together with our allies, we must also look for ways to help those who are now threatened by violence or death in Afghanistan," he added.
The German government has come under growing criticism this week for failing to evacuate Afghan support staff and their families from the country before the Taliban's takeover of Kabul on Sunday.
On Monday, Germany sent three military planes to evacuate the remaining diplomatic personnel and local Afghan staff, but only one could land in due to the chaos at the airport. The other planes were diverted to the neighboring countries.
In the past couple of weeks, Berlin evacuated nearly 2,000 local staff from Afghanistan, according to the government. But more than 10,000 were still trying to flee the country, including Afghans who worked for German development agencies, non-governmental organizations, and media outlets, as well as human rights activists and lawyers.