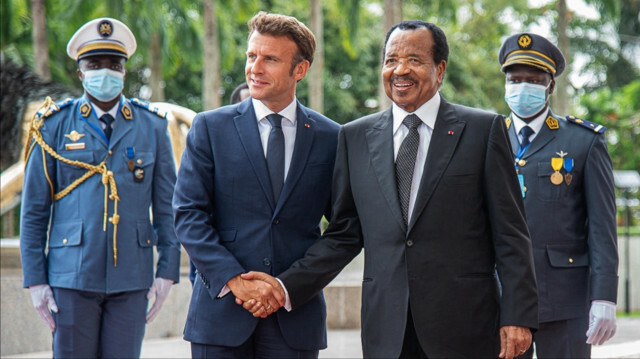 Leading analysts have said that Africa is attracting huge interest among global actors who view it as a future global market owing to its growing population and vast natural resources.
This year several top global leaders toured the continent to seek partnerships, cement already existing ties, or express interest in seeking gas and mineral exploration, among other goals.
"Everyone, right from the traditional allies to new entrants, are looking to make partnerships with Africa because of the opportunities they see," Dirk Kotze, a political scientist at the University of South Africa, told Anadolu Agency.
He added that "Africa has a growing population of mainly young people, making it attractive."
US Secretary of State Anthony Blinken this week embarked on a three-nation tour of the continent, making his first stop in South Africa on Monday.
Blinken said Africa has a young population and that in a couple of years, half of the continent's population will be 25 years old or younger.
"By 2050, one in four people on the planet we share will be African. They will shape the destiny not only of this continent but of the world," Blinken said at the University of Pretoria, where he unveiled a new US strategy for partnership between sub-Saharan Africa and the United States.
Blinken said his visit was not meant to counter Russian influence on the continent but to create true partnerships with African countries.
But many saw his visit as a way to counter Moscow's rising influence and propaganda on the continent as it came just a few weeks after Russian Foreign Minister Sergey Lavrov concluded a four-nation trip to bolster support from African countries.
Many African countries – including South Africa, the US' largest trade partner on the continent – have stayed neutral on the Russia-Ukraine war, refusing to join Washington and other Western countries in condemning Moscow.
"We don't force countries to choose. We offer choices that are affirmative," Blinken told a joint news briefing with his South African counterpart Naledi Pandor in Pretoria on Monday.
Blinken did not, however, mince his words on Russia's aggression toward Ukraine. He strongly condemned it.
Without naming any African country, Blinken said some were "being forced to sign onto Russia because there is an absence of an alternative."
Russia's controversial Wagner Group, a private security firm, has been engaged in operations in several African countries grappling with conflict – including Libya in North Africa – while Moscow is also a key weapons supplier for many nations on the continent.
- Congo, Rwanda
The top US diplomat also visited Congo on Tuesday, where he met President Felix Tshisekedi and Prime Minister Jean-Michel Sama Lukonde.
Blinken and Prime Minister Lukonde discussed the importance of organizing and holding free and fair elections as scheduled in 2023.
Blinken also condemned violence in eastern Congo and promised to discuss with neighboring Rwanda reports that they support M-23 rebels that have wreaked havoc in the region.
Blinken is set to hold talks with Rwandan officials on Thursday.
Earlier in the week, Blinken said: "The US strategy for Africa is rooted in the recognition that sub-Saharan Africa is a major geopolitical force, one that shaped our past, is shaping our present, and will shape our future,"
He added: "The United States will not dictate Africa's choices. Neither should anyone else. The right to make these choices belongs to Africans, and Africans alone."
Kotze said Russia's influence on the continent is mainly in North Africa and not sub-Saharan Africa, so there isn't a direct competition between the US and Russia.
Kotze also said Russia is not an economic giant in Africa, unlike China, which is seen as a threat.
He said the US has a different niche market than Russia. "The US looks to export vaccines and has energy interests, among others," he noted.
- Demand for Africa's gas
Kotze said due to the consequences of the Russia-Ukraine war, Western countries are turning to Africa to seek gas sources that are largely untapped.
Last month, Italian President Sergio Mattarella met with Mozambique's President Filipe Nyusi in the capital Maputo to discuss gas supplies as it seeks to reduce its reliance on Russia.
In May, German Chancellor Olaf Scholz embarked on a three-nation visit to Africa, including Senegal, Niger, and South Africa.
While in Senegal, Scholz said his country seeks to intensively pursue gas and renewable energy projects with the West African country.
Kotze said the West could use Africa's gas for a decade or two as it seeks to transition to other energy sources.
Iqbal Jassat, a Johannesburg-based political analyst, told Anadolu Agency: "The push by Europe for energy supply from Africa is clearly a desperate move to overcome their needs following the fallout with Russia,"
He said the shortage Europe is experiencing arises from the blowback they failed to foresee by imposing sanctions on Russia over the Ukraine war.
"Countries in Africa who possess gas and oil reserves are now under pressure to meet Europe's huge appetite, though it is known that Africa's capacity in respect to infrastructure is severely limited," he said.
Mustafa Mheta, a professor at Somali National University, told Anadolu Agency: "The current visits by top global leaders bring to light how Africa is becoming so strategic as far as providing resources to the so-called developed world is concerned."