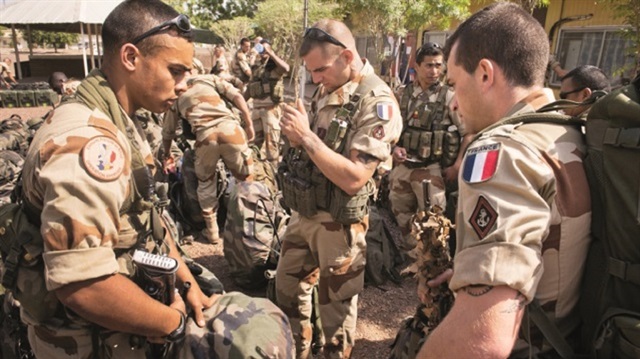 As many as 100 Kurdistan Workers' Party (PKK)-affiliated People's Protection Units (YPG) terrorists were discovered to be trained in the town of Kobane of the Syria for the scheduled operation aim to sweep Daesh terrorists from Raqqa, the stronghold of Daesh.
The French soldiers are supporting PKK/YPG in operational planning and coordination during the airstrikes.
Many of the French soldiers were discovered to have been based in a U.S. military facility in Kobane of Syria.
Previously in November, 2016, around 1,350 Kurdistan Workers' Party (PKK)-affiliated Democratic Union Party (PYD) terrorists were discovered to be training in the town of Tel Abyad in the Syrian province of Raqqa, the stronghold of Daesh.
The U.S. was also discovered to be paying 300 US dollars monthly to each and every terrorist.
Ankara denounces the YPG as an affiliate of the PKK terrorists, which has been conducting terrorist attacks targeting Turkey for three decades and which is designated as a terrorist group by Turkey, the United States and the European Union.
However, EU and U.S. insist on indicating that YPG is their ally against Daesh, despite Turkey's warnings.
Inaction of international community
The Turkish military on August 24 launched the operation, dubbed 'Euphrates Shield', which targets the PKK and its affiliated terrorist organizations PYD and YPG along with Daesh terrorists. However, the US hasn't conducted airstrikes in support of the Euphrates Shield operation.
Also, the adjournment of the Raqqa operation provided an advantage to Daesh terrorists against Turkish soldiers.
The US not only postponed the Raqqa operation but also suspended the Mosul operation which was being conducted with the support of the PKK/PYD.
The anti-Daesh coalition includes 13 countries, including United States, United Kingdom, France, Australia, Canada, Belgium, Denmark and the Netherlands.
However, all of these countries have been inactive against Daesh, since the Turkey-backed FSA have been conducting the Euphrates Shield operation.