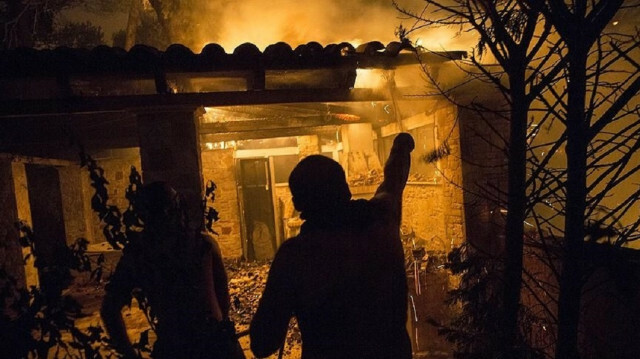 A large fire is burning for a second day in Vilia in West Attica, with several communities being evacuated as well as a nursing home, as the fire approached and burned the surrounding virgin pine forest on Mount Patera.
With the first light of day, air teams started dousing in Vilia with 6 helicopters and 5 aircraft, including the Russian Beriev-200. Ground teams of 330 firefighters are operating, including 8 groups of on foot, 115 vehicles, the Motorized Special Operations Department, as well as forces provided by the European Mechanism and Special Protection Policy. Poland is participating with 143 firefighters with 46 vehicles.
The Greek Army is also assisting with 5 groups of infantry units. Several volunteers are also participating with construction equipment from the Army and water tankers of the region.
According to local media, the Defkalia Plan was activated and the Greek Army has sent 5 groups of infantry units for assistance. Assistance is also provided by many volunteer firefighters, construction equipment of the Army, as well as water tankers of the region and the local municipalities.
The fire of Keratea in the South East Attica region that broke out on Monday in low vegetation has already burned houses and forest, while there are still scattered active fires inside the perimeter where 104 firefighters are operating, including three groups on foot, 40 vehicles. Two helicopters are also operating.
According to the Fire Brigade, both fires in Vilia and Keratea are being investigated on suspicion of arson.
The Fire Brigade said that the 2 fires in Vilia and Keratea were the most severe among the several fires that broke out in the country.
Earlier this month, the Attica region, as well as Evia Island, suffered one of the largest wildfires burning thousands of hectares of pristine pine forests and destroying hundreds of houses.