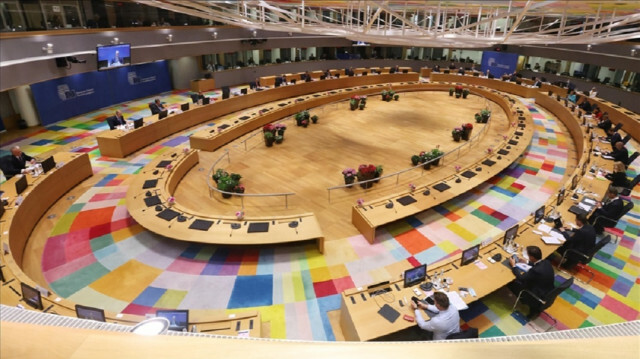 The heads of state and government of EU member countries began talks on Thursday at a summit set to last two days.
While the official agenda of the summit focuses on rising energy prices, the COVID-19 pandemic, and trade deals, an ongoing row between Poland and other members of the bloc over the rule of law is likely to dominate the first day of the meeting.
Upon his arrival at the summit, Polish Prime Minister Mateusz Morawiecki insisted that his country did not have any problems with the rule of law, while many other leaders expressed their concerns on the matter.
"The core question is the independence of the judiciary in Poland," Ursula von der Leyen, the president of the European Commission, told reporters at the meeting's entrance.
She added that the EU's ongoing debate with Poland on the rule of law "has taken a new dimension" with the recent ruling of the Polish Constitutional Court that questioned the primacy of EU law.
"We have good bilateral relations with Poland, but we believe in the primacy of EU law," Irish premier Michael Martin said.
"We've all made choices in terms of being fully part of the European family in spirit as well as in the letter of that. We're extremely disappointed with developments and how things have transpired and we believe the situation needs to be resolved in favor of the rule of law," he added.
On the other hand, Hungarian Prime Minister Viktor Orban defended Poland, accusing the bloc of leading a "witch hunt" against the country.
"The EU has primacy where it has competencies," he stated, explaining that member states transferred rights to the EU in certain policy areas and kept national authority in others.
For her part, outgoing German Chancellor Angela Merkel stressed the importance of political dialogue before taking action against Poland and acknowledged that Warsaw had a different vision on the bloc's future.
"We need to find ways and means to come back together here," she said, calling the rule of law "a core of the European Union's existence."
Attending her 107th and last EU summit, the German leader also talked about the bloc's failure to reform its asylum and migration policy.
"It is and remains bad that we have not yet found a common line on migration among the 27 member states, although the European Commission has made very good proposals here," she said.
Merkel revealed that EU leaders would discuss new sanctions against Belarus in retaliation to "state-backed human trafficking." This came after Belarussian President Alexander Lukashenko invited "tourists" from countries that are the main sources of migration to the EU -- a move Brussels says was meant to take revenge for EU sanctions against his regime.