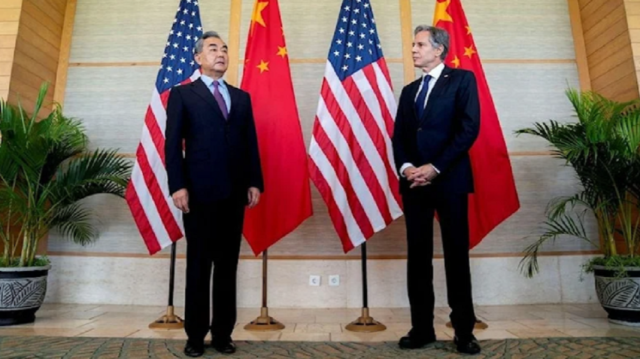 China is open to dialogue and exchanges with NATO, the country's top diplomat said during a meeting with the alliance chief on the sidelines of the 77th UN General Assembly in New York.
"As a permanent member of the (UN) Security Council, China is open to conducting dialogue and exchanges with NATO, and is willing to jointly promote the healthy and stable development of bilateral relations," Wang Yi told Jens Stoltenberg on Thursday.
NATO's new Strategic Concept, adopted at the Madrid Summit in June, said China's "stated ambitions and coercive policies challenge our interests, security and values."
It also voiced concern on the "deepening strategic partnership" between China and Russia and "their mutually reinforcing attempts to undercut the rules-based international order run counter to our values and interests."
According to the Chinese Foreign Ministry, Wang said the two sides should "strengthen communication, enhance understanding, and prevent misunderstandings and false information in the spirit of frankness and mutual respect."
Urging NATO to "grasp" the current international situation in an "objective and calm manner," Wang said China, which declared a "no limits" partnership with Russia in February, is a "major power with the best record on peace and security."
Urging the 30-member security alliance to establish "a rational and correct understanding of China," the top Chinese diplomat offered to "carry out necessary cooperation with NATO on global issues and contribute to peace and stability."
The duo also discussed the situation in Ukraine, where Moscow launched its "special military operation" earlier this year. Beijing has not supported the military action, but has condemned unilateral sanctions on Russia.
Stoltenberg, on his part, said he called on China to "use its influence on Russia to end its war in Ukraine."
"I also raised NATO's concerns on human rights and Taiwan. We stand ready to continue our dialogue on global security," Stoltenberg said on Twitter.
Stoltenberg and Wang last met in person on the margins of the Munich Security Conference in 2020. The two leaders also met virtually in September 2021 for talks on NATO-China relations and international security challenges.