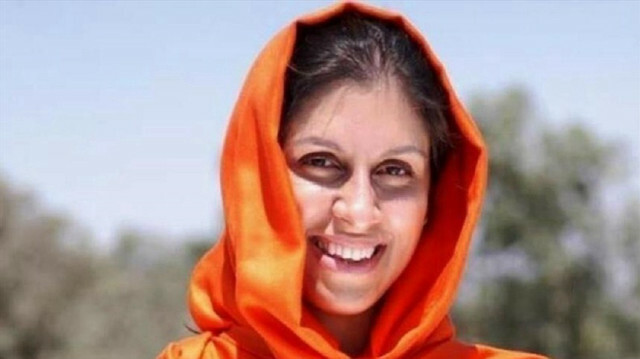 Aid worker Nazanin Zaghari-Ratcliffe criticized the British government's handling of her case in her first press conference Monday following her release last week from an Iranian prison, saying "I shouldn't have been in prison for six years."
Zaghari-Ratcliffe was taking her daughter to Tehran to see her family in 2016 when she was arrested and convicted by an Iranian court of plotting to overthrow the clerical establishment. She returned home six years later after the government resolved a "parallel issue" -- repaying a £400 million ($526 million) debt it owed Iran after Tehran purchased military tanks from Britain in the 1970s but never received them after the Shah fell and they were sold to Iraq.
"What happened now should have happened six years ago," said the dual British-Iranian national.
Zaghari-Ratcliffe, 43, was visibly frustrated, and after thanking her husband Richard for his high-profile campaign for her release, she disagreed with him when he thanked the government and current British Foreign Secretary Liz Truss.
"I have seen five foreign secretaries changed over the course of six years," she said. "That is unprecedented given the politics of the UK."
"I love you, Richard. I respect you," she continued. "But I was told many, many times that, oh, we're going to get you home. That never happened. So there was a time that I felt like, you know what, I'm not going to trust you because I've been told many, many times that I'm going to be taken home.
"But that never happened. I mean, how many former secretaries does it take for someone to come out? Five. It should have been one."
"What happened now should have happened six years ago," she said. "I shouldn't have been in prison for six years."
Despite her disappointment with the length of time it took the British government to secure her release, Zaghari-Ratcliffe said she did not want to hold a "grudge" because coming home was "glorious."
She added that her return home was also tough for her emotionally, however.
"The coming back was also very tough," she said. "Coming back to a daughter who is nearly eight. I left her when she was not even two. There is a whole lot to catch up (on)."
Also at the press conference was her husband Richard, daughter Gabriella, and her local member of parliament, Tulip Siddiq.
Siddiq praised the family's resilience but also called for an inquiry into why it took so long to get Zaghari-Ratcliffe home.
Richard Ratcliffe said "it has been a long struggle. I am immensely pleased and proud of my wife. Proud to have her home. Proud that we get to be a normal family again."
He then thanked the government and Truss, saying: "They got her home. It is for us over."
Zaghari-Ratcliffe said she was "very grateful to whoever has been involved in getting us home," highlighting her "amazing, wonderful husband" and her daughter for "being very patient with mummy."
She refused to discuss in detail her time in solitary confinement or her time in prison more generally but said the experience would "always haunt me."
After disagreeing with Richard for thanking the British government, she turned her attention to other detainees in Iran.
"I believe that the meaning of freedom is never going to be complete as to such time that all of us who are unjustly detained in Iran are reunited with our families.
"To begin with, Morad (Tahbaz), but also the other dual nationals, members of religious groups, or prisoners of conscience who are…I mean, we do realize that if I have been in prison for six years, there are so many other people we don't know their names who have been suffering in prison in Iran," she said.
"The justice in Iran does not have any meaning."
Morad Tahbaz is another dual Iranian national but remains stuck in Iran. Zaghari-Ratcliffe said he "should have been on the same flight as us."
Tahbaz's daughter Roxanne also attended the press conference and asked why her father was left behind. She then made a public appeal to British Prime Minister Boris Johnson and Foreign Secretary Truss, saying: "We beg you to please stand by your word."