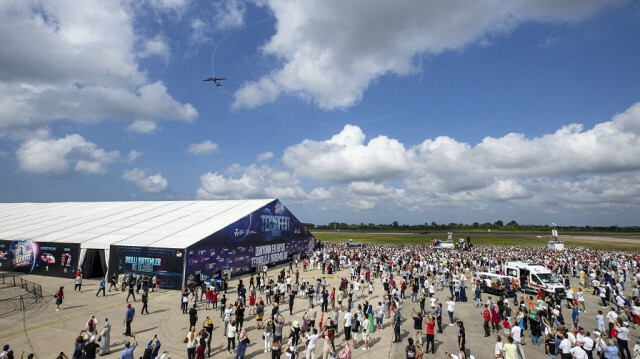 Türkiye's largest technology and aviation event Teknofest this year is showcasing cutting-edge technology, next-generation aircraft, the latest military equipment, and inventions in Samsun, on the Turkish Black Sea.
In its fifth edition, the six-day event, beginning on Tuesday, is featuring several competitions, seminars, speeches, and exhibitions.
During the first three days of the event, it attracted 325,000 people.
As part of aircraft/transport exhibits, visitors were treated to look at unmanned aerial vehicles Bayraktar TB-2, Kizil Elma and Aksungur, F-16 and F-4 Phantom fighter jets, helicopters Gokbey and Bell 429, ongoing national warcraft projects MMU and Hurjet, indigenous trainer plane Hurkus, transport aircraft CASA CN-235, maritime patrol aircraft P-72, and the first indigenous flying car Cezeri.
The event also featured air shows with jet fighters, drones, and helicopters.
The International Inventions Fair, held at the event with the cooperation of the International Federation of Inventors' Associations (IFIA), showcased around 270 inventions.
Türkiye's defense giants also showed off their wares at the fair, including Havelsan, Aselsan, Roketsan, Turkish Aerospace, Baykar, and MKE.
Murat Ikinci, the CEO of Roketsan, said the event aims to bring international technology closer to young people so they can tackle their own projects.
Some products were introduced for the first time at the event, such as Baykar's next- generation fighter drone Kizil Elma and Aselsan's mini/nano UAV project's flapping wings.
The event hosted dozens of competitions in many fields, from artificial intelligence to unmanned land, air, and sea vehicles and defense products.
Mehmet Fatih Kacir, Türkiye's deputy industry and technology minister, said some 600,000 people applied to vie in the Teknofest 2022 competitions.
Turkish and foreign attendees introduced their projects and inventions at the event.
Huseyin Abdel Vahhab, an Iraqi mechanical engineer, introduced a prototype which is said to give warning three minutes before an earthquake.
A student group from Türkiye's Aegean province Manisa showed a system which sends a message to the families of motorcyclists if an accident takes place.