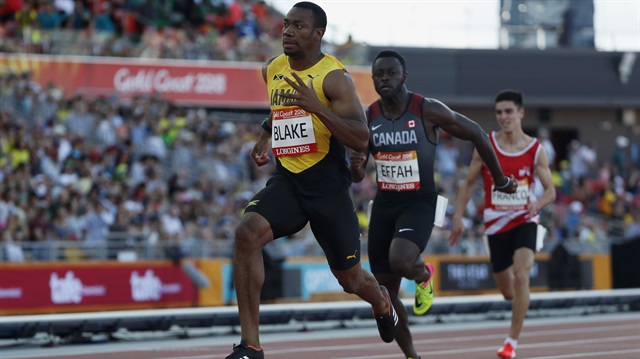 Jamaica's former world champion Yohan Blake sailed into the final of the 100 metres at the Commonwealth Games on Sunday, living up to his top billing on the opening day of the athletics at the Gold Coast.
In front of festive crowd at Carrara Stadium, the 28-year-old qualified fastest with a time of 10.06 seconds to raise his hopes of a maiden gold medal at the quadrennial Games in Monday's final.
Blake hopes to claim the title as a stepping stone to restoring Jamaica's primacy in the event following last year's retirement of Usain Bolt. He said the sprint great, his former training partner, had texted him best wishes in the morning.
"This morning he messaged me and said 'I believe in you,'" the 28-year-old told reporters at the twilight meeting.
"Yeah, just keep it basic, don't think too much into it, just look all ahead and get the job done.
"Because Usain told me, 'you've got to win, you've got to do your best or you can't go home'."
Sub-10 second times are a rarity on Australian soil but Blake, the third fastest man of all time behind Bolt and Tyson Gay, said he would not rule out anything despite it still being early days in the season.
"This is not a good time for me in the season but I want to make it very special for Australia and I came here and I feel good," said Blake, who also was the quickest in the heats with 10.15 seconds.
"There's always a lot more in the tank. I feel good, 10.06, I am feeling comfortable, anything is possible."
Kemar Hyman of the Cayman Islands also showed himself in decent shape, qualifying second fastest for Monday's final with a time of 10.11 seconds ahead of England's Adam Gemili, a world championships relay gold medallist last year.
Trinidad and Tobago's Michelle-Lee Ahye, favourite to win the women's 100, qualified third fastest (11.25) for the final behind England's Asha Philip (11.21) and Jamaican Christania Williams (11.22).
Rising Ugandan talent Joshua Cheptegei, the world silver medallist in the 10,000 metres last year, grabbed the 5,000 gold in a time of 13:50.83, burning away from Canada's silver-medal-winner Mohammed Ahmed in the final lap.
Kenya's Edward Zakayo took the bronze but Toka Badboy, the 19-year-old runner from Lesotho, was disqualified.
Glasgow silver medallist Nick Miller smashed the Games record and England's national mark with a throw of 80.26 metres to capture gold in the hammer ahead of Australian Matty Denny and Scot Mark Dry, who won bronze.