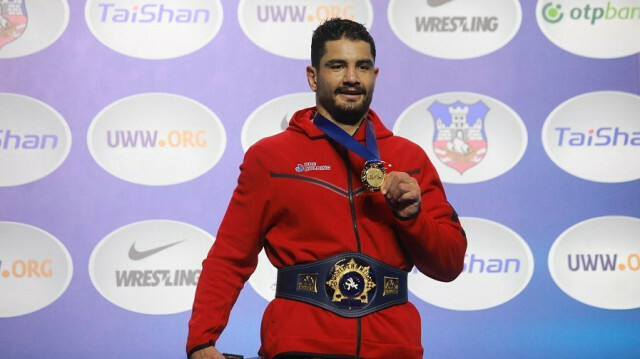 Türkiye's Taha Akgul won a gold medal at the World Wrestling Championships 2022 on Friday.
Akgul defeated Lkhagvagerel Munkhtur of Mongolia 6-2 in the men's freestyle 125- kilogram to win his third world championship title in his career. He previously claimed the 2014 and 2015 titles.
The 31-year-old wrestler eliminated Hungary's Daniel Ligeti, Canada's Amarveer Dhesi, and Iran's Amir Zare to reach the final.
Georgia's Geno Petriashvili and Iran's Amir Zare clinched the bronze medal in this category.
World Wrestling Championships in Serbia's capital Belgrade will conclude on Sept. 18.
Türkiye have so far collected four gold and three bronze medals.
Youth and Sports Minister Mehmet Muharrem Kasapoglu also congratulated Akgul on winning the medal.
Akgul was also a gold medalist at the Olympic Games Rio 2016.