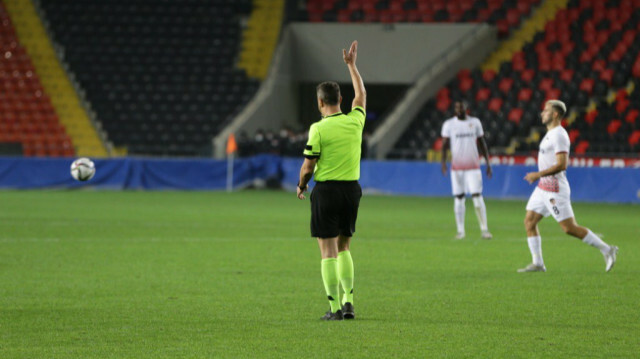 A Turkish top-tier football league match saw a rare event Friday as the referee mistakenly finished the contest early.
The teams returned to the pitch to complete the match.
Gaziantep FK were leading the Spor Toto Super Lig match against Kasimpasa 2-0 at home when referee Halis Ozkahya decided on nine minutes of additional time in the second half.
But Ozkahya ended the match in the 95th minute and teams headed to their dressing rooms.
After alerts from the linesmen, Ozkahya noticed the mistake and called the teams to the pitch to complete the match in the prescribed time.
The teams warmed up before resuming play for four minutes.
After completing the four minutes, Ozkahya blew the final whistle, a second time.
The International Football Association Board (IFSB), an organization that sets football rules, states: "The fourth official indicates the minimum additional time decided by the referee at the end of the final minute of each half. The additional time may be increased by the referee but not reduced."
The week 12 match in the Super Lig ended with a Gaziantep shutout win.
Kasimpasa's French midfielder Valentin Eysseric was sent off for a foul in the second half's injury time.
Joao Figueiredo and Steven Caulker were the scorers for the home team.
Mid-table Gaziantep FK have 15 points.
Kasimpasa are now in the 19th spot with nine points.