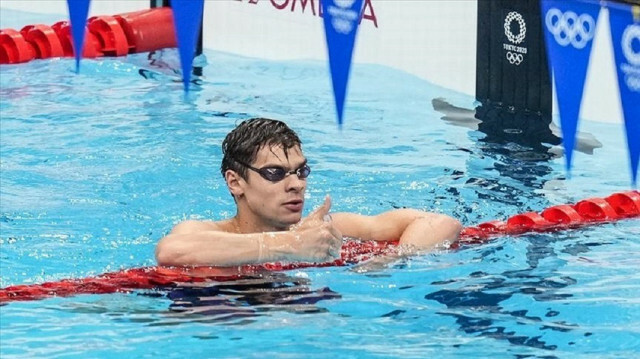 Russian Olympic champion Evgeny Rylov has been barred from international competitions for nine months after he attended a pro-war rally in March, according to the world swimming governing organization.
FINA announced on Thursday that the Russian swimmer will be unable to compete in any FINA event "for a period of nine months, following Mr Rylov's attendance and conduct at an event held at the Luzhniki Stadium in Moscow on 18 March 2022. Mr Rylov's suspension took effect on 20 April 2022."
Rylov, a gold medalist in the 100-meter and 200-meter backstroke categories at the Tokyo 2020 Olympic Games, joined a Moscow rally last month in support of Russia's war on Ukraine.
The 25-year-old came to the demonstration with the letter Z affixed to his clothing, which is a pro-war symbol.
He was also wearing the medals he won at the Olympics last summer.
Speedo, a world-renowned swimwear and swimming goggles manufacturer, had earlier terminated Rylov's sponsorship agreement for his participation in the rally hosted by Russian President Vladimir Putin.
At least 2,345 civilians have been killed and 2,919 injured in Ukraine since the war began Feb. 24, according to UN estimates, with the true figure believed to be much higher.
More than 5 million Ukrainians have fled to other countries, with over 7.7 million more internally displaced, said the UN refugee agency.