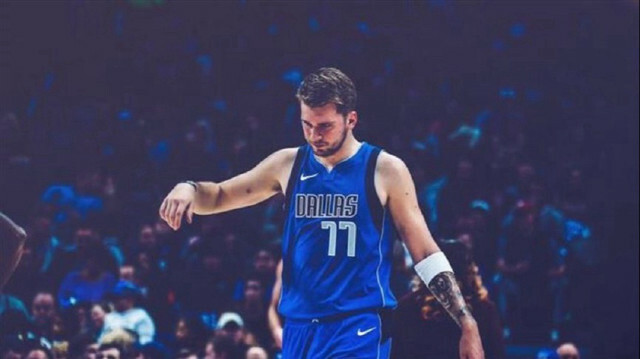 The Dallas Mavericks on Monday were once again without their Slovenian star Luka Doncic for a calf injury but they won against the Utah Jazz 110-104 with the big help of Jalen Brunson to tie the NBA playoff series.
Mavericks point guard Brunson scored career-high 41 points to be the key player for the home win at Dallas' American Airlines Center as the Mavericks leveled the series 1-1.
Brunson took eight rebounds and produced five assists for the Mavericks.
He had no turnovers as well.
Dallas' German power forward Maxi Kleber also played an important role in the victory by scoring 25 points. Spencer Dinwiddie added 17 points for the Mavericks.
Utah shooting guard Donovan Mitchell led his team as he tallied 34 points.
Croatian small forward Bojan Bogdanovic clocked up 25 points for the Jazz and Jordan Clarkson bagged 21 points for the visitors.
The Jazz's French center Rudy Gobert was dominant below the rim as he grabbed 17 rebounds. Gobert scored eight points as well.
With two minutes and 40 seconds remaining in the fourth quarter, Dallas were leading the game 104-102. Then Dorian Finney-Smith scored a critical three-pointer for his team, the Mavericks made it 107-102.
Dallas extended the gap after Brunson scored twice from the free-throw line, 109-102 as only 33.41 seconds left to the final buzzer.
The Mavericks secured a 110-104 win in game two to tie the series.
The third game will be played on April 21 at the Jazz's home court, Vivint Arena in Salt Lake City.
The NBA playoffs are played in a best-of-seven series format.
- Boston's Smart named Defensive Player of the Year
Boston Celtics guard Marcus Smart won the 2021-22 Kia NBA Defensive Player of the Year award as NBA announced on the website.
Smart is the second Boston player to take this award. A retired Celtics power forward, Kevin Garnett has won it in the 2007-08 NBA season.
He was also the first guard to have this honor since Gary Payton (Seattle SuperSonics) in the 1995-96 season.
"To be able to be named the Defensive Player of the Year and be the first guard since Gary Payton in 1996 to win this, it just shows not only me and everybody else that it can be done," Smart, 28, said.
Drafted by the Celtics in 2014, Smart took 257 points in the polls to beat second-place Phoenix Suns forward Mikal Bridges, who had 202 total points, and Jazz center Gobert, who came third after having 136 points.
Gobert was a three-time NBA Defensive Player of the Year in 2018, 2019, and 2021.
- Monday's results:
Philadelphia 76ers - Toronto Raptors: 112-97 (76ers leading series 2-0)
Dallas Mavericks - Utah Jazz: 110-104 (Series tied 1-1)
Golden State Warriors - Denver Nuggets: 126-106 (Warriors leading series 2-0)