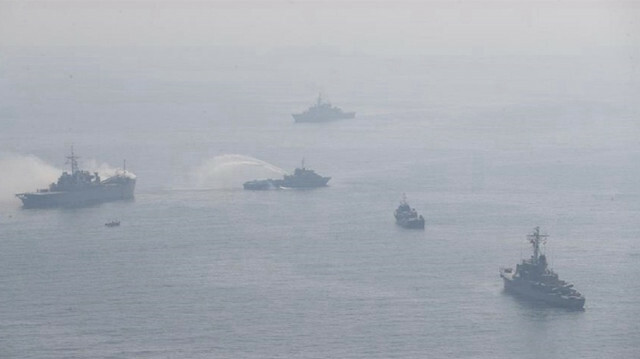 The US and South Korea started joint naval exercises on Monday, a day after North Korea fired another short-range ballistic missile, local media reported.
During the four-day combined exercises in the East Sea, the allies mobilized over 20 vessels, an American aircraft carrier, and South Korean warships, Yonhap News Agency reported.
The US nuclear-powered USS Ronald Reagan arrived in the South Korean waters on Friday to join the combined exercises.
"Through the training this time, we will further improve capabilities for the navies' combined operations and maintain a firm maritime defense posture based on the solid South Korea-US alliance," the agency quoted a senior South Korean official as saying.
The drill is part of the US and South Korean security cooperation to counter North Korea as tension further grew in the region after Pyongyang adopted a new law to use pre-emptive nuclear strikes to protect itself, declaring North Korea a nuclear weapons state earlier this month.
The US and South Korea have repeatedly offered North Korea dialogue to defuse current tensions on the Korean Peninsula, but neither has received a response.
On Sept. 9, the White House also said the US is seeking to restart diplomatic talks with North Korea after Pyongyang passed a new law that raises the specter of a nuclear confrontation.
However, North Korean leader Kim Jong-un rejected any plan to abandon his nuclear program, accusing the US of attempting to topple his regime.
North Korea declared itself a nuclear weapons state after passing the new law, authorizing its armed forces to use nuclear weapons if an attack with nuclear weapons or other weapons of mass destruction was initiated or became imminent.
Tension on the peninsula rose in 2020 when North Korea attacked and blew up the inter-Korean liaison office along the border. Seoul has threatened a strong response if Pyongyang "further worsens the situation."
However, tensions soared further last year when both Seoul and Pyongyang ramped up military drills to show off their might.