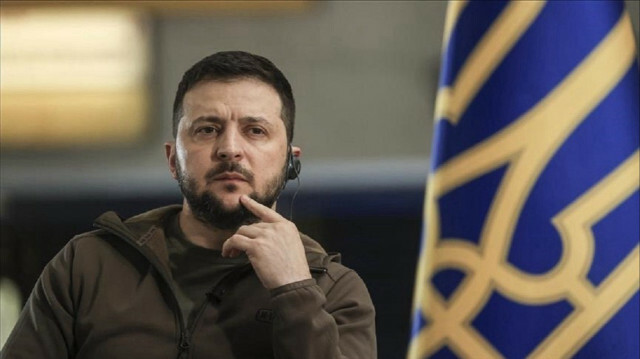 Ukraine's president has voiced "shock" on Israel's "failure to supply arms" to his country amid the ongoing war with Russia, according to media reports.
"I don't know what happened to Israel. I'm honestly, frankly -- I am in shock because I don't understand why they couldn't give us air defenses," Volodymyr Zelenskyy told French reporters on Friday, according to the news outlet Ouest-France.
Zelenskyy's comments were more stronger than previous remarks in March, when he chided Israel for its reluctance to send weapons to Kyiv against Russian attacks.
"You know there are many people in Ukraine of Jewish origin, and there are a lot of Ukrainians in Israel. How is it possible to have this attitude? I was shocked," he said.
Zelenskyy said Tel Aviv had given Kyiv "nothing in terms of weapons. It's not just 'not enough.' It's zero. I understand, they have a difficult situation regarding Syria and Russia, but I called two leaders, two prime ministers of Israel and asked them to give us air defense systems, and they said that they are defending their own lands."
The Ukrainian leader stressed, however, that he was not making accusations, but stating facts. "My conversations with the Israeli leadership have done nothing to help Ukraine," he added.
With the Russia-Ukraine war now in its seventh month, Moscow last week announced the mobilization of a reported 300,000 men aged 18-50 after a series of setbacks.
Since Friday, the self-declared republics of Luhansk and Donetsk in eastern Ukraine, along with Russian-controlled parts of the Zaporizhzhia and Kherson areas, have been holding referendums on joining Russia.