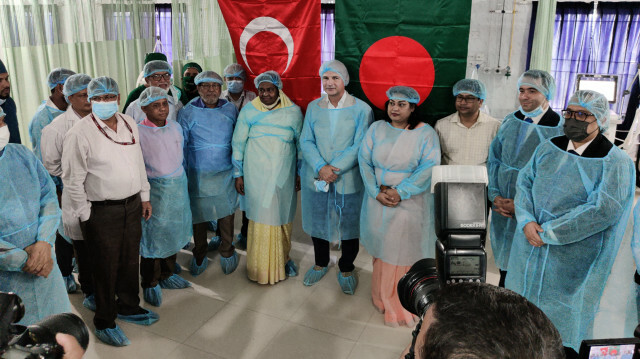 The Turkish Cooperation and Coordination Agency (TIKA) donated eight ventilators to a remote hospital's intensive care unit in the northern Bogura district of Bangladesh on Tuesday to help people receive better medical care.
"These ventilators will enhance the capacity of providing more quality medical services to the distant people in the areas, and many such humanitarian supports of Türkiye to Bangladesh for long will boost the brotherly ties between the two Muslim nations," Turkish Ambassador to Bangladesh Mustafa Osman Turan said during the handover ceremony.
Dr Hosne-Ara Begum, founder and executive director of TMSS Medical College and Rafatullah Community Hospital, formally received the donation, which was also attended by TIKA Bangladesh Coordinator Sevki Mert Baris and Deputy Coordinator Ahmet Faruk Mustakoglu.
Turan said without proper treatment facilities, a nation cannot develop physically fit human resources which are vital for progress.
Underlining Bangladesh as a role model for sustainable development for the world, he noted that Ankara is supporting Dhaka in health and other potential sectors.
The diplomat expressed gratitude to Bangladesh for hosting over one million Rohingya during a critical time for the persecuted people, and added that the Turkish Field Hospital in the Rohingya camps in the southern border district of Cox's Bazar is not only helping the stateless people but also the host community.
Muhammad Nassis Sulaiman, regional manager and country head of Islamic Development Bank (IDB), who attended the occasion as a special guest, commended Türkiye for its tremendous humanitarian support worldwide, particularly for Muslim nations.
Later, the Turkish envoy visited different units of the hospital and exchanged views with staffers.
Representatives from numerous institutions and locals in attendance exchanged information about agriculture and other sectors of the country's economy, urging Türkiye to work more actively in all possible sectors for mutual benefit.