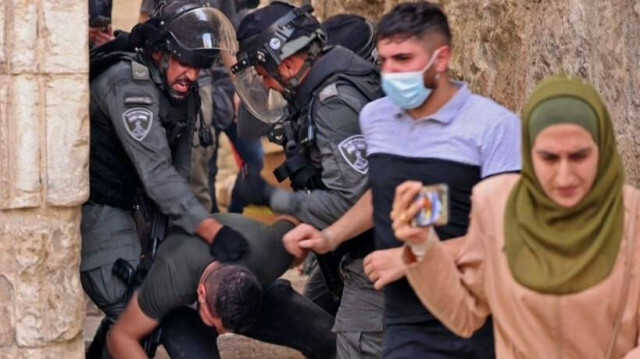 Turkish NGO Kudüs Şurası has called on the international community to hold Israel accountable for "its constant violation of international law and human rights," as Tel Aviv steps up its attacks against Palestinians in the occupied East Jerusalem.
In a statement issued on Monday, the NGO urged the world to act to put end to Israel's human rights violations.
"Again, the time to act is now. By acting now, the international community will be contributing to peace, justice and stability in the Middle East and beyond."
Turkish NGO launched campaign in solidarity with Palestinians in East Jerusalem
"The Israeli attempts to uproot Palestinians from the neighbourhoods and lands that historically and legally belong to them are a flagrant violation of International Law. Transferring civilian populations into occupied territory is illegal under international law and amounts to a war crime," the statement read.
The group went on to call on the global community to no longer exempt Israel from the requirements of international and humanitraian law as turning a blind eye to these crimes has further emboldend Tel Aviv to act with impunity.
"We call the entire international community to stand-up for its ideals and ethical obligations and take urgent measures to thwart Israeli actions. We further call upon the international community to demand that Israel is held accountable for its constant violation of international law and human rights," the statement concluded.
Palestinians in Jerusalem have been protesting in solidarity with the residents of Sheikh Jarrah neighborhood amid attacks by Israeli police.
The situation escalated after a ruling by the Israeli Central Court in East Jerusalem, which approved a decision to expel seven Palestinian families from their homes in the neighborhood in favor of Israeli settlers at the beginning of this year.
On Monday, at least 215 Palestinians were injured when the Israeli police stormed the Al-Aqsa Mosque in occupied East Jerusalem and attacked Palestinians who were on guard to prevent raids by extremist Jews.
Earlier, extremist Jews called for a raid on Al-Aqsa Mosque on Monday to celebrate the anniversary of the Six-Day War in 1967, when Israel occupied East Jerusalem, as "Jerusalem Day" according to the Hebrew calendar.