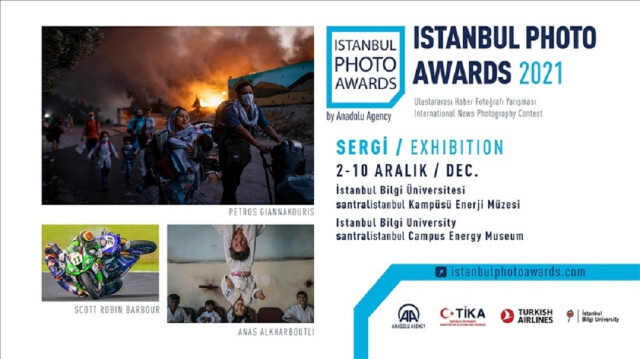 The third edition of Istanbul Photo Awards, an international contest, will open to visitors on Dec. 2, Thursday.
The award-winning photos of the contest will be presented at the Santralistanbul Energy Museum until Dec. 10.
Photojournalist of Getty Images Adam Pretty, the winner of third prize in Single Sports category, will join the exhibition area on Friday, Dec. 3.
A special selection of photos featuring events that marked the last year, from lachrymose scenes of the COVID-19 pandemic to the explosion in Beirut and the Superbike World Championship, will be expecting visitors.
The winning shots were previously exhibited at CerModern Arts Center in the Turkish capital Ankara and the UN headquarters in New York in October.
Some 15,000 photographs from across the world competed in the contest, and 14 photojournalists of 12 nationalities were awarded in Single News, Single Sports, Story News, Story Sports, Story Daily Life, and Story Portrait categories.
Istanbul Photo Awards is officially sponsored by flag-carrier Turkish Airlines and state-run aid group Turkish Cooperation and Coordination Agency (TIKA) , and the Istanbul leg of the exhibition is hosted by the Istanbul Bilgi University.
Dates of applications for 2022, the eighth round of the contest, will be announced in the forthcoming weeks, and more information on the contest and the award-winning photographs can be accessed via the website www.istanbulphotoawards.com.