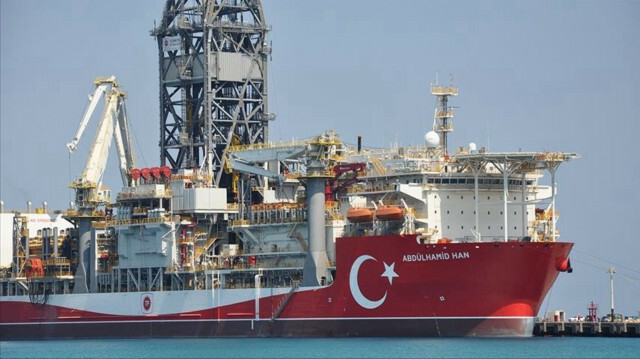 Turkish Cypriots welcomed the Abdulhamid Han drill ship setting off for drilling activities in the Mediterranean Sea, said the prime minister of the Turkish Republic of Northern Cyprus on Thursday.
In a written statement, Unal Ustel said: "We are excited, proud, and happy that the Abdulhamid Han, the fourth drill ship that joined in the hydrocarbon exploration activities in Blue Homeland (Turkish territorial waters), embarked on an expedition."
Ustel stressed the powerful symbolism of the ships accompanying Abdulhamidd Han being named after the three sons of the late Maj. Nihat Ilhan, all of whom were martyred the Greek Cypriot terror organization EOKA on Cyprus on Dec. 24, 1963.
He noted that Türkiye, which stresses the rights and interests of the TRNC as also being its own interests on every platform, will make a significant difference in the balance of power in the region with the new drill ship.
Emphasizing that they believe the Abdulhamid Han will add great strength to Northern Cyprus' search for their rights with Türkiye in the Eastern Mediterranean, Ustel said Türkiye's activities in the region with its drill fleet make the Turkish Cypriots proud.
He further said: "Exploration and drilling activities of Türkiye in the Eastern Mediterranean are within the jurisdiction of the Turkish side."
Rebuffing the Greek Cypriot claims, Ustel said: "The baseless statements made by the Greeks and Greek Cypriots on this issue and the moves escalating the tension mean nothing to us."
"On behalf of the Turkish Cypriot people, I would like to greet the expedition of our new generation drill ship equipped with the latest technology," he added.
The Abdulhamid Han recently arrived at its first destination, the Yorukler-1 well off the southern province of Antalya, according to Turkish Energy and Natural Resources Minister Fatih Donmez.
The ship, called the strongest of the country's current fleet of four, will drill exploration wells in the Eastern Mediterranean, while the other ships, the Yavuz and Kanuni, will continue drilling operations in the Black Sea.
The new addition to the fleet is a seventh-generation vessel and one of five worldwide with the capability of drilling to depths of up to 12,200 meters (40,026 feet).
The Abdulhamid Han will run its exploratory mission for two months, after which Donmez promised to announce any discoveries.