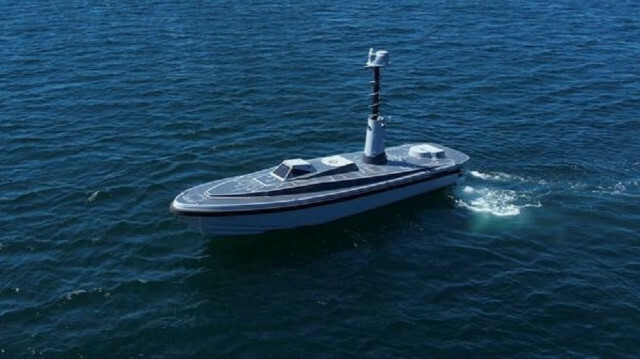 A Turkish-made armed unmanned surface vehicle (USV) has completed its first marine tests, according to the head of the country's Defense Industries' Presidency.
Currently under development by Turkish defense firms Havelsan and Yonca-Onuk, the Sancar USV will meet many of the Turkish military's requirements, including against foes that are not easily recognizable and are capable of unconventional operations, Ismail Demir told Anadolu Agency on Sunday.
Asymmetric threats have the potential to seriously harm national security and international balances, Demir stressed, adding that security forces would need to "identify and eliminate these threats while continuing to carry out traditional defense activities."
Successful USV projects have been conducted by companies with different capabilities for this purpose, Demir noted, underlining that Türkiye was working to add USVs to its naval forces.
"We can proudly say that the best-in-class vehicles will soon be able to meet the needs of Türkiye and friendly-allied nations."
Demir also highlighted that when unmanned systems are produced at affordable costs, they have the potential to reduce risk for manned systems, support defense activities, and perform tasks that manned systems cannot.
Sancar, with a third-level autonomous system, was developed as part of a contract signed on April 8, Demir noted.
Havelsan is developing and manufacturing the platform, as well as the system software, ground control station, mini-Ship Data Distribution System, anti-jamming global navigation satellite system, and satellite communication system.
Yonca-Onuk, on the other hand is carrying out the production of the boat with the armed USV platform and supply and integration of parts of the vessel's useful load.
When developed, the Sancar will be Havelsan's first autonomous USV and will be capable of navigating and conducting missions autonomously, integrated with the next-generation Advent command and control system and controlled via a ground control station.
Weighing 9 tons and measuring over 12 meters long, the Sancar is being developed with technologies that include artificial intelligence, autonomous systems, big data, and data fusion.
Sancar can reach speeds of over 40 knots and travel within a range of more than 740 kilometers (460 miles).
Remotely controlled, Sancar will also be able to autonomously perform port/base protection operations, as well as search and rescue, intelligence, reconnaissance, surveillance, patrol, surface warfare, and mine countermeasures missions.