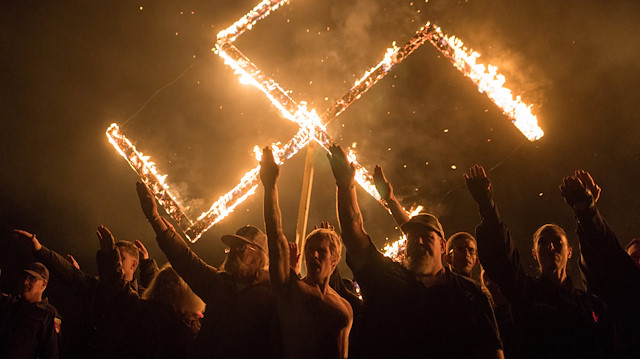 The rise of anti-Islamic tendencies and white supremacy across the world were discussed at a seminar in Istanbul on Wednesday in the wake of the recent New Zealand terror attacks.
The Center for Islam and Global Affairs (CIGA) at Istanbul Sabahattin Zaim University (IZU) hosted the seminar, titled "Islamophobia, New Zealand and Hate: The Rise of White Supremacists."
In his speech, Sami Al-Arian, director of the Center for Islam and Global Affairs (CIGA), said white supremacy is "something that has to be taken seriously because of the damage [it has caused] around the world."
Al-Arian recalled the 2011 Norway attacks which left 77 dead as well as the ideology of Anders Behring Breivik, who carried them out.
"He [Breivik] mentioned the name, for instance, of Robert Spencer 64 times [in his manifesto]. He is a very well-known person who hates Islam and Muslims.
"Another person he [Breivik] mentioned was Daniel Pipes, who has made a career of attacking Islam and Muslims. He also mentioned Pamela Geller…and what brings them together and puts them in the same field is they have been the voices of Islamic hatred in the world since 9/11," he said.
Last week, at least 50 Muslims were killed and as many injured when Australian-born Brenton Tarrant, 28, entered the Al Noor and Linwood mosques in Christchurch and shot indiscriminately at those inside.
Tarrant has been charged over the massacre and is being held at a maximum-security prison in Auckland.
Four children under the age of 18 were shot dead in cold blood and other children are still being treated at nearby hospitals.
In regards to the attacks in New Zealand and the terrorist who carried them out, Al-Arian said, "He [Tarrant] thought Islam is the challenge that must be overcome for the white race to stay, because this mentality only sees things in terms of race".
"You could see in the manifesto of this killer, he said the 'ones that he hates the most are the converts,' because he thinks that they betray. They betray their race.
"Islam is the religion that actually has every race, every ethnicity and every language," he stressed. "They [Muslims] consider all of them as one Ummah and one nation."
Stating that Islamophobia took place in different forms whether in school, at work and in the streets recently, Al-Arian said: "This atmosphere that has been created especially after the tragic events of 9/11, 2011, has made Muslims fearful of speaking out."
-Excluding Muslims
"The real aim of this is to exclude them from any kind of seat at the table, any public issues, to exclude them from participating in forums, organizations and politics and public affairs," he said.
Without naming anyone, Al-Arian gave examples of Muslims who were recently elected to the U.S. Congress.
"You can see that today, for instance, when a couple of Muslims were elected to Congress and how they are being attacked viciously every single day."
The academic also spoke of the media's role in shaping people's thoughts on Islam and Muslims.
"In Australia, for example, in 2017, there were 3,000 articles on Islam and Muslims. Out of these 3,000, there were 600 headlines -- all of them negative on Islam and Muslims. That's about eight per day," he said.
Meanwhile, Yusuf Kaplan, an academic at Istanbul Sabahattin Zaim University, said the recent terror attacks were not "accidental" acts.
"I was expecting that kind of horror story because we are living in a world which is dominated by a lawless and an illegal, in my opinion, world system," Kaplan said.
"We are living in this kind of world. In theory, it is based on human rights, democracy and rule of law. In reality, it produces the most horrible stories. It is the result of the Western white supremacy," he added.
"We see the violence against God, violence against nature and all the civilizations," he noted.
Muslims do not take revenge, he said.
"We cannot say that we have to take revenge. That is our power. It is not the practice of Muslims."
What happened in New Zealand was not Islamophobia, Kaplan said.
"It is the hate against Islam," he added.