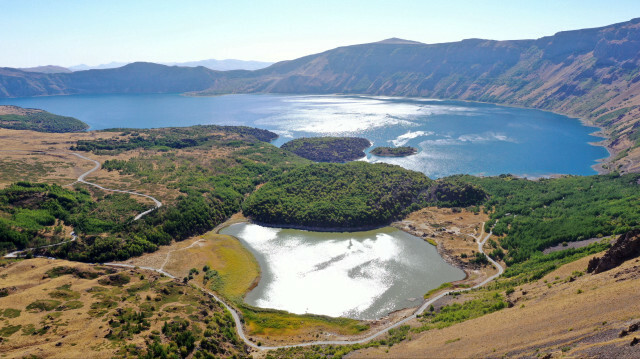 Efforts to add Türkiye's picturesque Nemrut Geopark to the UNESCO Global Geopark Network will be tackled by a dedicated new committee, said people involved in the work.
The Nemrut Geopark in Bitlis' Tatvan district in southeastern Türkiye – not to be confused with the mountain of the same name near the city of Adiyaman – is famed for its hot and cold lakes, ice caves, steam chimneys, lava remains, vegetation, biodiversity, geomorphological features, and more.
Efforts are underway to add the Nemrut Geopark, which includes the Nemrut Caldera – which won an award as part of the European Destinations of Excellence – into UNESCO's Global Geopark network
Necmettin Elmastas, the chancellor at Bitlis Eren University, told Anadolu Agency that the new committee includes experts from fields such as geology, archaeology, geography, and botany.
Elmastas said the region features breathtaking sights and is a unique international resource.