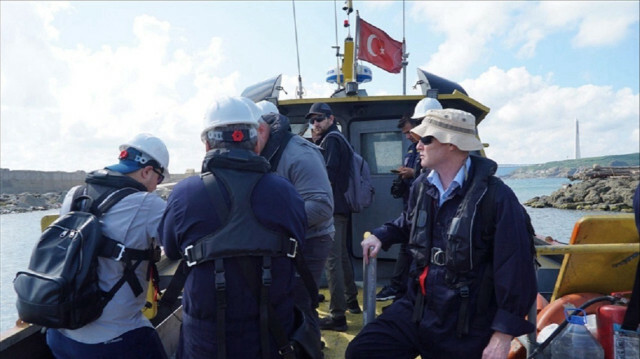 The Joint Coordination Center comprising representatives of Türkiye, Ukraine, Russia, and the UN on Sunday inspected ships exporting grain from Ukrainian ports.
As part of a recent grain export deal signed by these three countries and the UN, the Liberian-flagged ship Osprey S anchored off the north of Istanbul. The ship will now depart for the Chornomorsk port of Ukraine.
Also, the Maltese-flagged ship Rojen, carrying 13,000 tons of corn from Chornomorsk en route to England, also anchored off the north of Istanbul on Saturday evening. Its inspection has been completed and it will pass through the Istanbul Strait on its way to England.
The inspections of the ship lasted about an hour and a half.
After those two ships, the team went on to inspect the Türkiye-flagged Polarnet vessel that arrived off the coast of Istanbul on Saturday with 12,000 tons of corn. Its inspection lasted almost two hours.
The ship later set sail for the port of Derince in Türkiye's northwestern province of Kocaeli after inspection.
Another vessel, the Navi-star, set course for Ireland as it also departed with 33,000 tons of corn, following its inspection off Istanbul.
On July 22, Türkiye, the UN, Russia, and Ukraine signed a deal in Istanbul to reopen three Ukrainian ports for the export of Ukrainian grain, which had been stuck for months due to the Russia-Ukraine war, now in its sixth month.
To oversee Ukrainian grain exports, the Joint Coordination Center in Istanbul was officially launched on July 27, comprising representatives from the three countries and the UN to enable safe transportation of commercial foodstuffs and fertilizers by merchant ships.