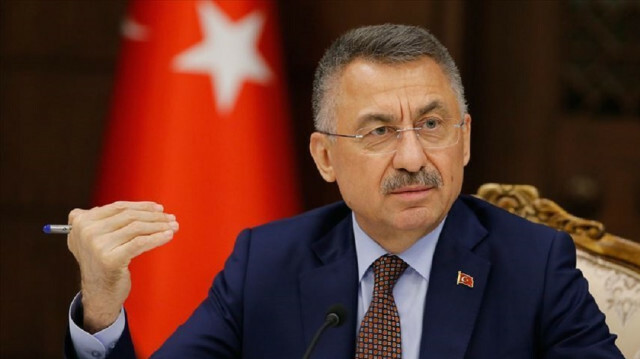 Turkey's vice president Thursday accused the EU of being a part of the "deadlock" of the Cyprus issue by admitting the Greek Cypriots into the bloc despite their rejection of a UN-brokered plan for the island back in 2004.
Speaking to Anadolu Agency, Fuat Oktay said the recently partially reopened Maras region is part of the Turkish Republic of Northern Cyprus (TRNC), adding: "However, the EU, unfortunately, has turned its back on the facts and the common good in the Maras issue, as it has also done on the two-state solution."
Stressing that the "Turkish Cypriots are equal," Oktay said the EU "can speak very recklessly and insensitively when it comes to their rights, fairness and sovereignty."
"The Greek Cypriots and Greece have been rewarded every time, despite backpedaling on all their promises, avoiding the negotiating table, violating agreements, and ignoring the Turkish community, while the Turkish Cypriots have paid the price," he said, adding that nothing can prevent Turkey from standing with the Turkish Cypriots.
Calling the UN Security Council's statement on the opening of Maras (Varosha in Greek) a "complete disappointment," he said the international community has been taken hostage by Greece and the Greek Cypriots.
Stressing that UN Security Council resolutions are never above property and sovereignty rights, Oktay said: "Contrary to what is claimed, there is no violation of UN Security Council resolutions (in the recent reopening)."
"Just like the EU, the UN Security Council ignores the facts of the Cyprus issue," he added.
"The start of new negotiations for a permanent and sustainable solution to the Cyprus issue is possible only if the equal sovereignty and equal international status of the Turkish Cypriot people is recognized," he stressed.
- Reopening of Maras region
Maras was partially reopened to the public last October after being a "ghost town" since 1974, followed by additional steps last week.
It had been abandoned after a 1984 UN Security Council resolution saying that only its original inhabitants could resettle the town.
Entry into the town located in Northern Cyprus was forbidden except for Turkish army personnel stationed in the TRNC.
- Decades-long dispute
Cyprus has been mired in a decades-long dispute between Greek and Turkish Cypriots, despite a series of diplomatic efforts by the UN to achieve a comprehensive settlement.
Ethnic attacks starting in the early 1960s forced Turkish Cypriots to withdraw into enclaves for their safety.
In 1974, a Greek Cypriot coup aimed at Greece's annexation led to Turkey's military intervention as a guarantor power to protect Turkish Cypriots from persecution and violence. As a result, the TRNC was founded in 1983.
It has seen an on-and-off peace process in recent years, including a failed 2017 initiative in Switzerland under the auspices of guarantor countries Turkey, Greece, and the UK.
The Greek Cypriot administration entered the EU in 2004, the same year Greek Cypriots thwarted the UN's Annan plan to end the longstanding dispute.