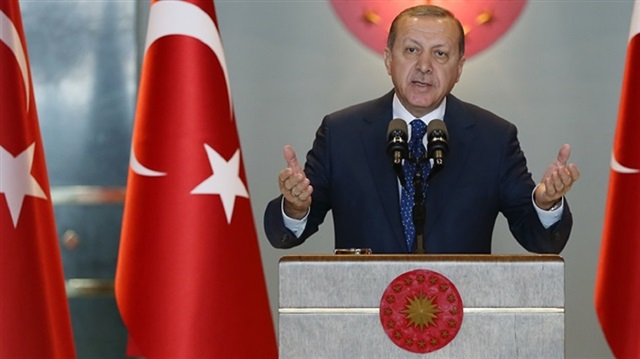 Turkish President Recep Tayyip Erdoğan recalled Turkey's determinism to fight against terrorism and strengthen the Turkish economy, as he stressed that Turkey is strong enough to deal with all the terrorist elements that target the integrity, peace and economy of Turkey.
"While we are witnessing an extraordinary term that we should put all our efforts against the terrorism and don't let these parties harm the Turkish economy," said Erdoğan in his speech in the Presidential Complex of the Turkish capital Ankara.
"Turkey is under attacks from terrorist organizations inside the country and outside. We can deal with all the difficulties due to the existance of over 3 million refugees inside the country. But what is more important is providing an atmosphere of peace and stability in Iraq and Syria.This would be the only permanent solution," he said.
"All the attacks targeting Turkey show the indifference between the Daesh, Fetullah Terrorist Organization (FETÖ) and Kurdistan Workers' Party (PKK) terrorist organizations," he said.
Erdoğan also criticized the countries who are the members of anti-Daesh coalition, saying that they are completely inactive against Daesh terrorists.
Erdoğan's remarks attributed to the inactiveness of the anti-Daesh coalition, particularly the United States, which hasn't supported Turkey with conducting airstrikes in al-Bab and postponed the scheduled operation in Raqqa, which made Daesh stronger against Turkey-backed Free Syrian Army (FSA) soldiers.
Previously,Turkish military sources verified that the US didn't conduct airstrikes as a support to the Euphrates Shield operation.
The adjournment of the Raqqa operation provided an advantage to Daesh terrorists against Turkish soldiers.
The U.S. not only postponed the Raqqa operation, but also suspended the Mosul operation which was being conducted with the support of the Kurdistan Workers' Party (PKK)-affiliated Democratic Union Party (PYD).
The anti-Daesh coalition includes 13 countries, including the United States, the United Kingdom, France, Australia, Canada, Belgium, Denmark and the Netherlands.
However, all of these countries have been inactive against Daesh, since the Turkey-backed FSA launched the Euphrates Shield operation on August 24.
The Euphrates Shield operation was launched between the Turkish Armed Forces and the Free Syrian Army, with the aim to sweep Daesh from Syria, and has been running for 140 days.
Erdoğan previously said Manbij will be cleaned of terrorists after al-Bab operations.