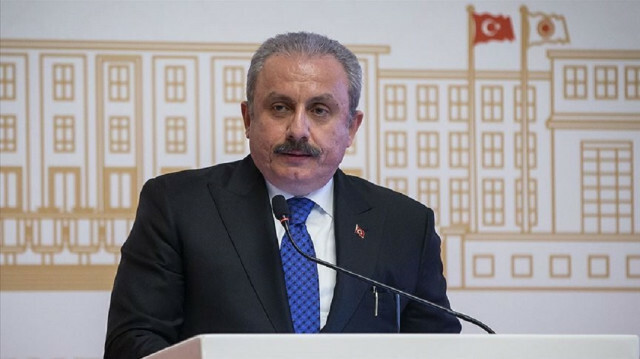 Countries which say they are trying to spread democracy to the world have instead sown dangerous instability wherever they go, including Afghanistan, according to Turkey's parliament speaker.
"It seems that whatever they tried to create in Afghanistan under the leadership of NATO and the US failed," Mustafa Sentop on Wednesday told reporters at the Turkish Embassy in Austria's capital Vienna.
Countries trying to "bring democracy" to many parts of the world have instead turned every place they go into regions of instability, including Afghanistan, Syria, Iraq, and Libya, he argued.
Underlining that Turkey has no economic interests in Afghanistan, he stressed that the two countries have had historical and cultural relations for more than a century.
Asked about a possible influx of refugees from Afghanistan to Turkey, he said no country can admit refugees from all over the world and take care of them forever.
"This is a global problem. With a global perspective, the international community should come together and help solve this problem," he said.
Noting that Turkey is working at its source to control irregular migration originating from Afghanistan, he urged countries to share this responsibility.
The Afghan people have suffered considerably over the last 50 years, with invasions by the former Soviet Union in 1979 and US forces in 2001, which lasted until their withdrawal on Aug. 31.
-Refugee deal between EU, Turkey
On the 2016 refugee deal between the EU and Turkey, Sentop said the main issue is to take responsibility for those who have been displaced from their homes.
He evoked images of migrant boats sinking in the Mediterranean, little children drowning, and even Alan (Aylan) Kurdi, a toddler whose body washed ashore in 2015 in Turkey after a desperate migrant journey by sea.
Sentop also expressed hope that all countries and conscientious people will take interest in this issue by developing projects to prevent people from resorting to migration, and enable them to live in their own homelands.
If the world does not develop projects that enable people to live in peace and tranquility under baseline humanitarian conditions, dramatic population shifts can be expected in the next quarter-century, he warned.
Turkey has taken in some 4 million Syrian refugees, more than any other country in the world.
The 2016 EU-Turkey deal was reached to stop irregular refugee flows and improve the conditions of refugees in Turkey.
Turkey has complained that it upheld its part of the deal, sharply reducing migrant flows, but that the EU failed to do its part, and that five years later the deal badly needs updating.