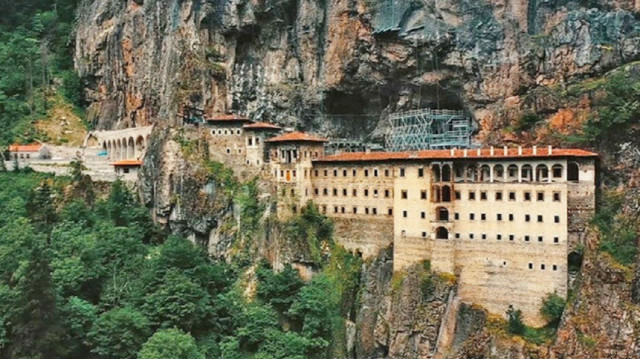 The ancient Sumela Monastery in Türkiye's Black Sea province of Trabzon offers nature, history and culture to its visitors.
Also known as Mother Mary, or Virgin Mary, it is carved out of rocks in a wooded area on the slope of Mt. Karadag in Macka – 300 meters (984 feet) above the Altindere Valley.
The monastery, which is included in UNESCO's temporary list of World Heritage sites, was reopened for religious practice on Aug. 15, 2010, with permission from the Culture and Tourism Ministry, following an 88-year hiatus.
The world-famous Sumela Monastery, which is also one of Türkiye's important religious tourism sites, was closed to visitors in September 2015 due to the risk of rockfall.
The restoration of the monastery complex began in February 2016 and was completed after landscaping, geological and geotechnical research, and strengthening of the rocks.
The ancient building was reopened last year on July 1 and was temporarily closed on Nov. 1 due to the risk of rockfall. It was opened again in May this year.
The monastery, which offers its visitors different opportunities such as trekking, mountain biking and photo safari as well as its unique view, hosted over 217,000 tourists since its reopening last year.
Sadik Karacocuk, an 83-year-old visitor from Türkiye's Aegean province of Izmir, said that he had been planning to visit the Sumela Monastery for a while but he could find the opportunity until he come across a tour company that arranges visit to the site.
"There are really beautiful places here, worth visiting," he said.
Hayriye Korkmaz, another visitor, said: "It is possible to see every shade of green here."