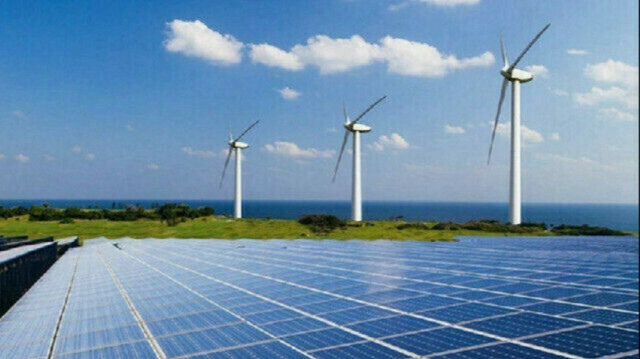 Solar and wind are now the cheapest and best tools to reduce global emissions that need to fall by 24 gigatons by 2030, the latest report from the Intergovernmental Panel on Climate Change (IPCC) confirms.
The report, which focused on effective ways to cut global emissions between 2010 and 2019, found the growth rate has slowed since the total net anthropogenic global greenhouse emissions rose to the highest level in 2019 since 1990 at 59 gigatons.
The report found solar and wind have the best potential for emissions reductions required by 2030 to limit global warming to 1.5°C by 2100.
This goal requires global emissions to peak by 2025 at the latest and almost halve by 2030, which corresponds to 24 gigatons.
Global emissions were 12% higher in 2019 relative to 2010 levels, and 54% higher than 1990 levels. Between 2010 and 2019 also marked a period when the unit costs of solar and wind energy fell by 85% and 55%, respectively.
The unit cost of photovoltaics dropped from $600 per megawatt-hour in 2000 to around $100 per megawatt-hour in 2020, during which solar deployment saw a ten-fold growth rate.
- Solar and wind alone can cut over one-third of required emissions reductions
The report warns that limiting global warming to 1.5°C is beyond reach without immediate and deep emissions reductions across all sectors and major energy sector transitions.
IPCC scientists assess that solar and wind deployments are the cheapest ways to cut over a third of the required emissions reductions by 2030. Cutting emissions by that level also requires a 75% drop in global coal use.
UN Secretary-General, Antonio Guterres, had warned Monday that the world is on a pathway to global warming of more than double the 1.5-degree limit agreed upon in Paris.
"Current climate pledges would mean a 14% increase in emissions. Investing in new fossil fuels infrastructure is moral and economic madness. Such investments will soon be stranded assets and a blight on investment portfolios. To keep the possibility of limiting warming to 1.5 degrees alive, first and foremost, we must triple the speed of the shift to renewable energy," he said.
Guterres underlined that renewables are already far cheaper than conventional energy sources.
- Clean electrified future pathway to safe climate
The latest IPCC report shows that investing in clean energy and phasing out fossil fuels are the fastest ways to energy security and costs reductions, Laurence Tubiana, CEO of the European Climate Foundation, said.
"New natural gas and coal infrastructure would increase the serious costs of climate change and feed into the geopolitical fossil fuel spiral often linked to tension, conflict and macroeconomic instability," she said.
Dave Jones, Ember's global program leader, noted that a clean power future is the way to a secure climate.
"A clean electrified future is the pathway to a safe climate. A massive global effort to ramp up clean electricity this decade puts the power sector on track for 1.5°C. Solar and wind are cheap and will be the backbone of the future electricity system," he noted.
- Record electricity from wind and solar in 2021
Jones cautioned that governments need to act with the necessary urgency.
"Record solar and wind electricity show that we are on the right way but these records need to continue to reach 100% clean power as soon as possible. The electricity sector is key to massive emissions reductions in other sectors, too," he said.
According to Ember's Global Electricity Review published last week, solar and wind hit a record tenth in the share of global electricity generation last year.
The milestone has now been reached by 50 countries around the world, including the five biggest economies while solar was the fastest rising source of electricity generation for the 17th year running.