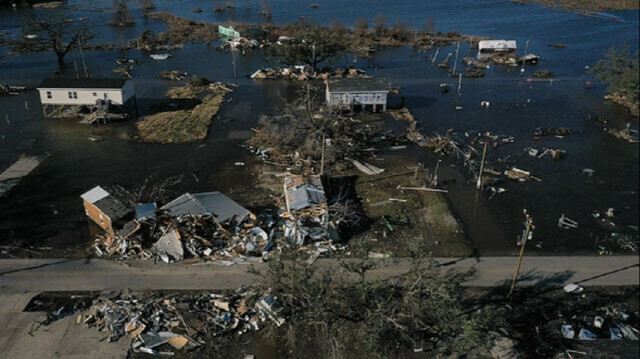 In the second month of 2022, the world witnessed a number of environmental disasters, including heavy rains and floods in Ecuador and Zambia, heavy snowfall in the US, Japan and India, wildfires in South Korea and Kenya, and volcanic eruptions on Italy's Mt. Etna.
Below is a timeline compiled by Anadolu Agency:
Feb. 1:
- Tropical Storm Ana, ravages most southern African nations, reaches Zambia, with the country's meteorological department forecasting continued heavy rainfall.
- Rescuers are looking for anyone who may be alive after massive flood causes a landslide in Ecuador's capital of Quito, killing at least 21 people.
Feb. 2:
- A winter storm is expected to wreak havoc on a nearly 2,000-mile (3,219-kilometers) swath of the US over the next few days, bringing heavy snow, ice and bitterly cold temperatures.
Feb. 3:
- A massive winter storm in the central US disrupts thousands of flights and causes more than 100,000 power outages.
Feb. 7:
- Tropical Cyclone Batsirai slams into Madagascar's eastern coastline overnight, killing at least 10 people and displacing almost 50,000 people, says the country's disaster management agency.
- Avalanche hits Afghanistan's mountainous eastern parts killing at least 15 people.
- A wildfire rages in Kenya, destroying 550 hectares of the Aberdare forest, one of the East African country's most important water catchment areas.
Feb. 8:
- Two children in eastern Zambia drown after being swept away by raging floodwaters while attempting to cross a stream with their mother.
- The death toll from Tropical Cyclone Batsirai in Madagascar rises to 21.
- All seven Indian army personnel who went missing after being hit by an avalanche are found dead.
Feb. 9:
- At least 16 people are killed and 36 others are injured after heavy rainfall triggers a landslide that buries several homes near Pereira, Colombia.
- The death toll from Tropical Cyclone Batsirai in Madagascar rises to 96.
Feb. 13:
- A woman and her two children die of hunger and thirst in southwestern Somalia, as the local administration fears more deaths due to the protracted drought in the Bakool province.
Feb. 17:
- A wildfire in southeastern South Korea is brought under control after three days.
- Strong storms kill at least three people in Poland.
Feb. 18:
- The UN World Food Program says it is alarmed at the worsening food crisis across the Sahel region, which is being exacerbated by conflict, the COVID-19 pandemic, and climate change, with over 10.5 million people facing an acute food and livelihood crisis.
- A powerful storm hits northern and eastern Germany, killing at least three people and knocking out electricity to thousands of households.
- A rare red weather warning is issued in Wales and southern England as Storm Eunice with strong winds hits the UK.
Feb. 19:
- Four people are dead in the UK and Ireland as Storm Eunice wreaks havoc on the British Isles and parts of Western Europe with record winds and rain.
Feb. 20:
- Storm Eunice kills four people and injures nine others in Poland, and knocks out power to almost 400,000 homes.
Feb. 21:
- Mt. Etna, one of the world's most active volcanoes located in southern Italy, erupts again, spewing lava and a massive cloud of ash.
- Heavy snowfall hits parts of northern Japan, with at least one person reportedly killed in a traffic accident.
Feb. 25:
- Heavy rains in Tarija, southeastern Bolivia, kill at least four people and leave 20 others missing.
Feb. 26:
- Tropical Cyclone Anika makes landfall on the Kimberley coast of Western Australia, bringing winds that have an impact on the region.