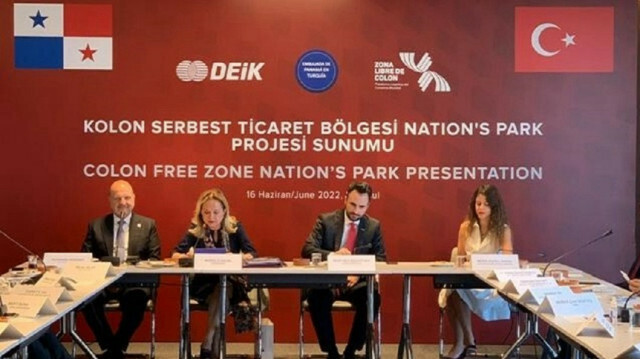 Turkish and Panamanian businessmen on Thursday came together to talk about future trade opportunities, according to a statement by Panama Embassy.
Giovanni Ferrari, the manager of Colon Free Zone Administration (CFZA), met with officials of the Foreign Economic Relations Board of Türkiye (DEIK) in Istanbul.
The agenda of the meeting included a presentation of the Colon Free Zone Administration (CFZA) and its possibilities for Turkish corporations to enter and maintain a presence in the Latin American market.
The Colon Free Trade Zone is a free port in Panama aimed at re-exporting a wide variety of merchandise to Latin America and the Caribbean.
Both sides agreed to collaborate together in exchanging information towards identifying the sectors which can take advantage of the possibilities offered by the CFZ.
"The range of opportunities range from the matchmaking between corporations already present in the area and Turkish counterparts, in order to quickly access the Latin-American market, to the establishment of manufacturing facilities in order to take advantage of Free Trade Agreements (FTA) Panama has signed with countries in the region in order to provide preferential access to such markets," read the statement.
The presence of Turkish interests and products in the Latin American region has grown in recent years, it said, adding, "but can increase greatly through the size and track record of the Colon Free Zone, active since 1948 in many fields, ranging from basic necessity products to luxury items."
The CFZ estimates that the current community of over 2,600 corporations present in the zone will achieve a yearly turnover of upwards of $13 billion, a number that is very likely to increase in the coming years as the economic reactivation of the regional economy continues.
The CFZA also presented a project named Nations Park, an initiative aimed at establishing country pavilions within its area in order for countries to showcase their touristic, cultural, gastronomical, as well as commercial offer to visitors from Latin America.
This initiative, scheduled to initiate in mid-2023, will command the attraction of Latin Americans eager to visit over 30 pavilions presented by countries from around the world.
"The CFZA took the occasion of the meeting with DEIK to cordially invite Türkiye to form part of the initial list of 30 countries to showcase in Nations Park," it said.
Panama allured great amounts of foreign capital, and by the 1980s, it had become Latin America's largest financial center.
Several major Latin American, North American, and European banks own branch offices in Panama City.