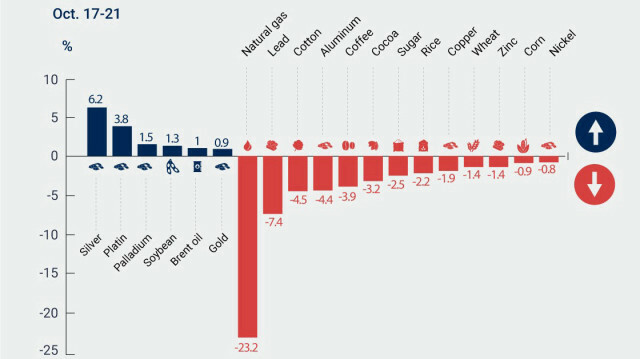 The commodity sell-off continued last week due to global recession fears.
While commodity prices are following a downward trend, bond yields are rising amid concerns over high inflation, recession, and high interest rates.
Political uncertainties in Europe on top of existing risks also lowered the risk appetite in global markets.
Investors' expectations regarding the "hawkish" monetary stance of central banks are also getting stronger.
Market estimates that the European Central Bank will hike rates by 75 basis points on Thursday, while the Bank of England (BoE) is projected to raise policy rate by 100 basis points next month.
According to the data released last week, Britain's annual consumer inflation rate rose to 10.1% in September, returning to July's 40-year high.
In its latest meeting, the BoE raised its base rate by 50 basis points to 2.25% from 1.75% – the seventh consecutive hike by the central bank.
China's COVID zero policy also is a source of pressure on the commodity market as investors expect a fall in deliveries due to its lockdown measures.
Last week, China's move to delay the release of key economic data due to the Communist Party Congress also added to investor uncertainty.
- Precious metals on rise
Despite a downward trend in the commodity market, prices of precious metals were on the rise.
Gold gained 0.9%, silver 6.2%, platinum 3.8% and palladium 1.5% last week.
In the over-the-counter market, the price of copper decreased 1.9%, aluminum 4.4%, lead 7.4%, nickel 0.8% and zinc 1.4%.
Energy prices followed a mixed course last week.
The price of Brent oil edged up 1%, while natural gas traded on the New York Mercantile Exchange plummeted 23.2%.
Wheat trading on the Chicago Mercantile Exchange slipped 1.4%, corn 0.9% and rice 2.2%, while soybeans gained 1.3%.
The price of cotton, which saw its lowest level since December 2020 at $0.7580, declined by 4.5% last week, and coffee, which saw its lowest level since September 2021 at $1.8620, dropped by 3.9%.
The decline in coffee exports due to drought in Uganda was also one of the factors that negatively affected coffee prices.
The price of sugar decreased by 2.5% and cocoa by 3.2% last week.