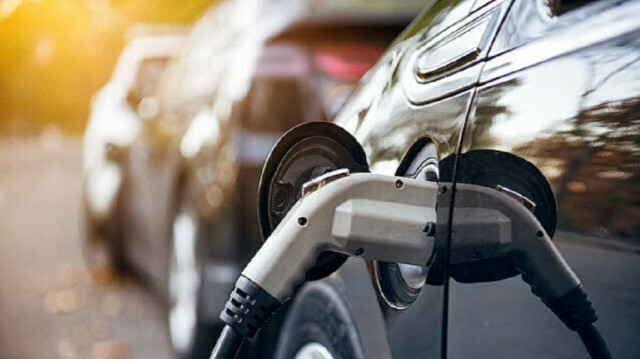 High lithium prices could delay or slow down the speed of sales growth in the electric vehicle (EV) sector if planned projects to expand lithium supply do not come online as scheduled amid persisting high demand.
Global lithium production, in terms of mining, is geographically limited to three major producers in Australia, Chile and China, each with a 52%, 22% and 13% share, respectively.
"The mine needs to be processed and refined into either lithium chemical or lithium hydroxide to be used in batteries and appliances. Around 60% of the refining capacity is in China. Some regions in China have recently experienced power cuts which impacted the lithium refining facilities," Tae-Yoon Kim, a world energy outlook analyst at the International Energy Agency (IEA), said in an interview with Anadolu Agency.
Because of the importance of China in supply chains, he foresees pressure on the refining and processing value chain than the mining side.
Lithium, nickel, cobalt, manganese and graphite are crucial for battery performance, longevity and energy intensity.
-Lithium prices up 62% since beginning of year
According to the IEA, clean energy technologies account for 30% of the global lithium demand. Lithium demand for clean energy technologies is growing at a faster pace relative to other major minerals, and the rapid uptake of EV deployment is forecasted to raise the share to around 75% by 2040.
Accelerating clean transition requires more supply of critical minerals and supply-demand imbalances reflect on prices.
The price of lithium stood at $13,154 per ton on Aug. 31 last year but reached $59,928 per ton on Aug. 31 this year, marking a 355% annual increase.
On Jan. 31 this year, lithium cost $36,962 per ton, but the price has now risen by 62%, supported by robust EV sales.
"The price of lithium is less affected by Russia's war in Ukraine compared to other minerals, but the price increase has remained quite high up to now because of the very strong demand growth from the EV sector and some logistics disruptions in China," Kim said.
Global EV sales reached 6.75 million units in 2021, up by 108% compared to sales in 2020, according to Ev-volumes.com data.
- Lithium demand from EV sector doubles
Lithium demand in the EV sector has almost doubled in a year, from 140 kilotons in 2020 to 270 kilotons in 2021. And according to Kim, this is expected to grow further this year.
"The lithium market is comparatively smaller than other minerals, so any rapid change in demand could make bigger impacts on prices," he said.
Kim elaborated on the two pricing mechanisms used -- the spot market and long term contracts. He explained the difficulty in finding contractual prices as many automakers make long-term contracts to secure supplies and hedge prices.
"Contractual prices are generally lagging behind spot prices. Spot prices may moderate later in the year and in 2023 as new supplies come online. Today's price level is quite high but it is quite difficult to imagine very substantial reduction in prices," Kim said, adding that contractual prices could increase a bit more because of the very high prices witnessed earlier this year.
These high prices, along with the potential uptick in battery prices this year, could impact the speed of growth in EV sales, he said.
"This does not mean it is impossible to reduce battery costs, but the impacts of commodity prices on the total final battery costs are much higher now than in the past. That means if the prices remain high, this could delay or slow down the growth of EVs," he said.
He also noted that planned projects in Argentina, Australia, the US, Canada and New Zealand are likely to increase the lithium supply globally, tempering higher prices on the market.